Silver Bullion 'Set to Beat Gold' in 2018 as Both Hit 5-Month Lows, Bitcoin Whips 20% from New Top
Friday, 12/08/2017 15:40
GOLD and SILVER prices steadied above 5-month lows versus the US Dollar in London trade Friday, rallying into the weekend as global stock markets rose.
The EuroStoxx 50 index of Europe's largest corporations added 1.8% for the week.
Commodities edged higher but major government bond prices slipped further from Thursday's drop, when gold fell to its lowest since early July at $1244 per ounce.
Silver fell harder, also setting new 5-month lows against the Dollar overnight at $15.65 per ounce, before rallying 20 cents in Friday's Asian and London trade.
That curbed the ratio of the two metals' prices relative to each other at 79.0 ounces of silver per 1 ounce of gold – just shy of the highest since April 2016.
The Gold/Silver Ratio has averaged 73.6 so far this year, making gold one-third dearer in terms of silver than its 50-year average.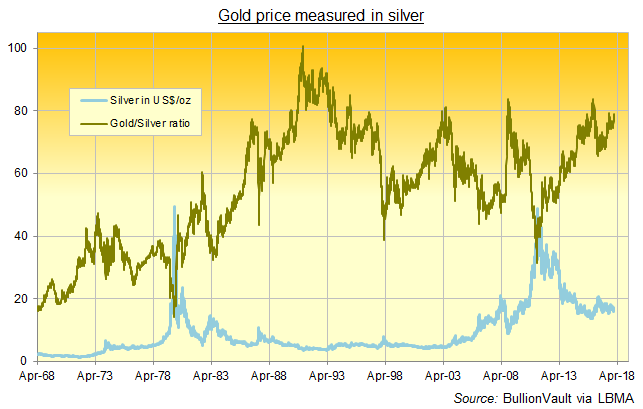 "At [this] gold/silver ratio," says a new 2018 outlook from analysts at German financial services firm Commerzbank, "the silver price is low in historical terms."
Forecasting a deficit in silver between supply and demand next year, Commerzbank's commodities team now expect silver to "outperform" a rally in gold, reaching $18 per ounce by next December and pulling the Gold/Silver Ratio down to 75.
Friday's weak rebound in gold bullion put the metal on track for its sharpest weekly drop versus the Dollar since May, down 2.3% from last Friday at $1245 per ounce.
Gold's weekly losses were sharper still against the British Pound, which surged and then gave back a 1.5-cent jump overnight on news of
a new Brexit deal
between the UK and the European Union, enabling talks to move onto Britain's post-March 2019 trade relationship with the world's largest single economic bloc.
Promising "no hard border" between Northern Ireland and EU-member the Republic of Ireland, the deal will cost the UK taxpayer perhaps £39 billion (€45bn).
So-called crypto-currency Bitcoin meantime sank 20% from Thursday's fresh all-time above $17,300 – a six-fold gain from 6 months ago – before
rallying to $15,800
.
"We have
not abandoned you guys
," said Marko Kobal, CEO of Bitcoin exchange NiceHash, to customers via Facebook last night, promising to try and recoup the 4,700 units stolen by hackers from Bitcoin wallets run by the Slovenian company early Wednesday.
The second-half of 2017 "should" have already seen silver outperform gold, Commerzbank says, because of "positive economic trends and increased risk appetite.
"Furthermore, Chinese silver imports after ten months are already higher than in 2016 as a whole, which points to robust industrial demand."
Contrasting with Commerzbank's bullish outlook for 2018, "Silver prices will weaken," says a note from Dutch bank ABN Amro's Georgette Boele, "because of more Fed rate hikes, higher US Treasury yields and a higher US Dollar."
Also, "The speculative positions in silver [futures contracts] and the total ETF [trust-fund] positions are considerable and there is clearly room for liquidation," she adds.
By Thursday night's close in New York, the number of shares in the largest silver-backed ETF – the iShares Silver Trust (NYSEArca:SLV) – had grown more than 1% from Monday as prices dropped 2.5% for the week so far.
That took the quantity of bullion needed to back the SLV back above 10,000 tonnes, equal to almost 37% of global annual mine output.
Holdings for the SPDR Gold Trust (NYSEArca:GLD) – the largest such gold-backed vehicle – have slipped 1 tonne this week to 842 tonnes, equal to some 26% of annual global mine output.
All told however, gold ETFs worldwide now need
well over 2,300 tonnes
of bullion backing, equal to 72% of one year's total mine output.