Gold Rebounds, Silver Jumps to 4-Week High as Jobless Claims Dent Fed Rate-Rise Bets
Thursday, 6/08/2023 15:35
GOLD PRICES rebounded and silver bullion jumped on Thursday as the US Dollar fell together with betting that the Federal Reserve will raise its key interest rate next week after US jobless benefits data pointed to weakness in the world No.1 economy's labor market.
Initial claims last week
jumped to the highest since October 2021, up by more than 2/5ths from last fall's 5-decade low.
Betting rose that the Federal Reserve will now pause its interest-rate rises at its June 14th meeting, putting the likelihood of the US central bank holding its effective rate at today's 5.08% up from 2-in-3 to more than 3-in-4 according to the CME derivatives exchange's
FedWatch tool
.
The Dollar gold price regained all of yesterday's $25 drop towards last week's 2.5-month lows, fixing around $1967 per Troy ounce at London's bullion market afternoon benchmark auction.
Silver prices
meanwhile leapt more than 50 cents to a 4-week high near $24.25 per ounce.
But year-end forecasts for the Fed Funds rate edged higher however following the jobless benefits claims data, putting the consensus outlook for December 2023 at 5.02% per annum after it had retreated 7 basis points from last week's peak of 5.08%, the highest such market prediction since before March's mini-crisis in US regional banking.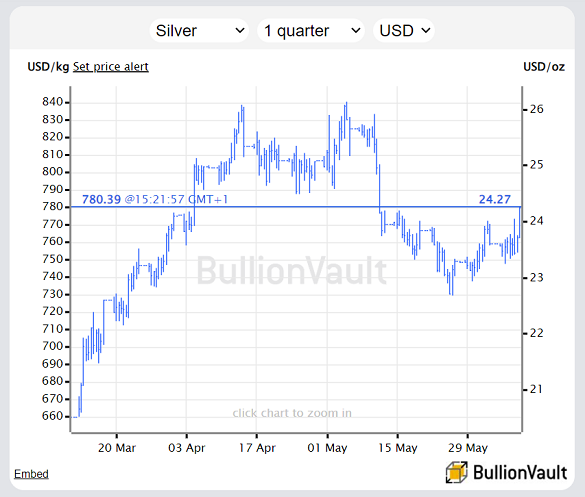 "We are definitely repricing rate expectations higher," Reuters quotes French investment bank SocGen's strategist Kit Juckes, pointing to "the realisation that the pause
doesn't mean the end
" of rising borrowing costs.
Both the Reserve Bank of Canada and the Reserve Bank of Australia this week surprised analysts and traders by raising their overnight interest rates yet again.
Short-term rates in the US Treasury market may also rise in the coming weeks and months, major news outlets report, as the government scrambles to re-stock its cash holdings following last week's resolution to the latest US debt-ceiling argument in Washington.
"[With] the Treasury General Account...fallen to an alarmingly low level," says analysis from German financial giant Deutsche Bank, "the subsequent rebuild will likely be
one of the largest in debt limit history
."
Last Friday, before the Biden-McCarthy debt deal was passed, the TGA held barely $23 billion, down almost 85% from 2 weeks before.
"The
potential hit to the economy
once Treasury goes to market selling that much debt could be extraordinary," reckons another commentator, saying that "it's difficult to imagine Treasury going out and selling what could be $1 trillion of bonds and not have that have an impact on borrowing costs."
That potential $1 trillion debt-raising by the Treasury "is worrying for gold bulls in the short term" said Swiss bullion refining and finance group MKS Pamp in a note last week, because it will be "essentially
draining liquidity from the markets
" by taking that cash off banks and investors.
Having spiked to the highest since New Year 2001 at 5.55% last week as the debt deal was passed by the House and the Senate, 3-month rates today held little changed from Wednesday's 3-week lows beneath 5.30% per annum.
But outside Christmas and the US regional banking mini-crisis of March, the rate on 3-month Treasury bills has now exceeded the effective Fed Funds rate without break since January 2022.
Elsewhere this week, Japan's GDP growth for Q1 was revised higher to 0.7% from the previous 3 months, but Thursday's data releases said the 19-nation Eurozone entered a "technical recession" between January and March, with GDP falling by 0.1% for the second consecutive quarter.
Australia's GDP growth was meantime downgraded to 0.2% for Q1 a day after the RBA raised rates to an 11-year high at 4.1% following April's consumer-price inflation accelerating back to 6.8% per year.