Gold Prices Rebound as SNB Backstops CS, ECB Hikes, Ackman Calls for Blanket Guarantee
Thursday, 3/16/2023 14:24
GOLD PRICES rose again in London trade Thursday, moving back towards yesterday's multi-month and new record highs against the world's major currencies as the latest government action to stem a worsening banking crash failed to stem a new fall in global stock markets.
"Time is running short
before the fire
becomes a conflagration," says hedge-fund manager Bill Ackman, now calling for the US government to make a 'short term' guarantee on ALL bank deposits after
calling at the weekend
for the authorities to backstop depositors at Silicon Valley Bank, a move they then made on Sunday which has
spurred big withdrawals
from smaller banks, transferred by anxious savers to the largest US institutions.
Shares in European giant Credit Suisse (SWX: CSGN) meantime bounced 30% before edging back after the Swiss National Bank declared overnight that – despite CS now losing more than 87% over the last 5 years, with 1/4 of that drop coming in the last month – "the problems of certain banks in the USA do not pose a direct risk of contagion for the Swiss financial markets."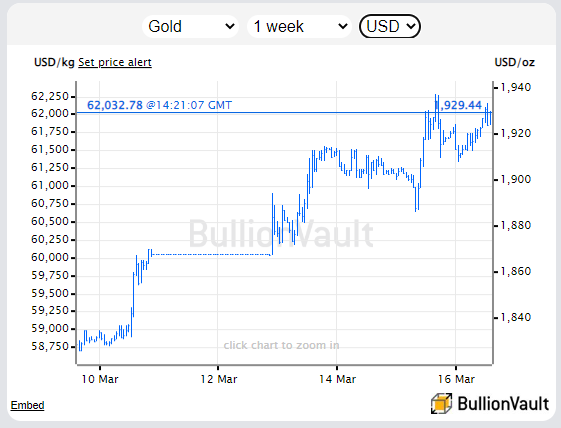 Debt insurance contracts yesterday put the odds of the $8.4bn bank
defaulting at 1-in-2
, but "The strict capital and liquidity requirements applicable to Swiss financial institutions ensure their stability [and] Credit Suisse meets [them]" the SNB went on, adding that "If necessary,
the SNB will provide
CS with liquidity."
CS responded by saying it is borrowing "up to" CHF 50 billion (US$53.9bn) from the SNB – "decisive action to
pre-emptively strengthen
liquidity" according to the troubled lender – and using some of that money to buy back around US$3bn of its own debt.
Betting on next week's meeting of US Federal Reserve today flipped back to seeing a small rise in interest rates to 5.00% per annum as the most likely outcome after the European Central Bank went ahead with the steeper half-point hike it had pre-announced for Euro rates.
"Inflation is
projected to remain too high
for too long," the ECB said, adding of the CS and US banking slumps that the 19-nation central bank "is monitoring current market tensions closely and stands ready to respond as necessary to preserve price stability and financial stability in the euro area.
"[Our] banking sector is resilient, with strong capital and liquidity positions."
European banking stocks mostly rallied from the last week's steep plunge, but Germany's No.1 Deutsche Bank (ETR: DBK) fell by another 5.3% to hit a fresh 5-month low in Frankfurt.
Global stock markets overall meantime gave back an early rally to trade lower for the 6th session in the last 2 weeks, retouching Monday's fresh 2023 low on the MSCI World Index.
Gold prices had retreated hard overnight but rallied back to $1925 per ounce for US traders and touching £1600 per ounce in UK Pounds and A$2,900 for Australian investors, both just shy of yesterday's
fresh all-time gold highs
.
"Longer-term, gold's strong average performance in the lead-up to and following both initial Fed rate cuts and US recessions
keeps us biased for higher prices
as macro uncertainty swirls," says a note from No.1 US bank (and London bullion clearer) J.P.Morgan, predicting a top above $2000 per ounce in 2023.
US banking stocks
have sunk by 1/5th
over the last 10 days, closing Wednesday at the lowest since mid-November 2020.