Gold Price Touches $2000 as Crude Oil Leaps on Russian Embargo Risk, Equities Face 'Stagflation'
Monday, 3/07/2022 14:18
GOLD PRICES jumped to touch $2000 and palladium hit new all-time highs Monday morning as Russia's increasingly violent invasion of Ukraine sent global stock markets sharply lower again and stagflation concerns worsened with crude oil prices soaring to 13-year highs amid US-EU talk of a possible embargo on Russian supplies, writes Atsuko Whitehouse at BullionVault.
Leaping at the start of Asian trade, spot gold priced in the US Dollar jumped 1.5% to reach $2001 per ounce, the highest since
August 2020's record highs
.
Stock markets in contrast fell hard to lose as much as 2.7% on London's FTSE100 and 4.0% on Germany's Dax before Western equities rallied ahead of the New York open.
While that rebound coincided Monday lunchtime with a retreat in gold prices back to last week's finish at $1970, it still left developed-world shares down over 10% since the New Year peak in the MSCI World Index.
Major government bond prices also fell, pushing longer-term interest rates higher as European oil benchmark Brent crude meantime jumped over 18% at Monday's opening in Asian trade to touch $139.13 per barrel, the highest since July 2008.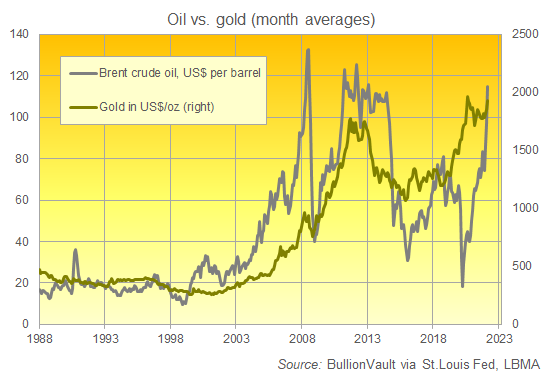 "We are now talking to our European partners and allies to look in a coordinated way at the prospect of banning the import of Russian oil, while making sure that there is still an appropriate supply of oil on world markets," said Antony Blinken, US Secretary of State, on Sunday.
"That's a very active discussion as we speak."
Wholesale gold bullion for UK investors climbed 2.0% to £1520 per ounce, an 18-month high in Sterling terms, and it leapt 2.3% to a new all-time Euro high of €1846.
The yellow precious metal also hit a new all-time high for Japanese investors, reaching ¥7407 per gram, 1.8% above the new peak reached in mid-February.
Oil prices had already soared last Friday to their highest since 2008 after talks over Iran's nuclear program
stalled without an agreement
to let Iranian crude reach global markets again.
European wholesale natural gas, of which Russia is the major supplier, also soared in price, leaping 18% to a new record high of €335 per megawatt hour, up from just €16 this time last year.
"As oil and gas rockets in price and worries about the effect on global growth rise, the
spectre of stagflation
is hovering over financial markets," says Susannah Streeter, senior investment and markets analyst at UK stock brokers Hargreaves Lansdown.
"The move to safety in the face of significantly rising energy and food prices should continue to support gold for some time," says a technical strategist to Bloomberg.
"The inability to tackle the inflation problem in today's environment could see prices climb to $2142 an ounce."
Global food prices had already jumped to a new record last month even before Russia's invasion of Ukraine hit exports and planting in the "breadbasket" region, according to the United Nations.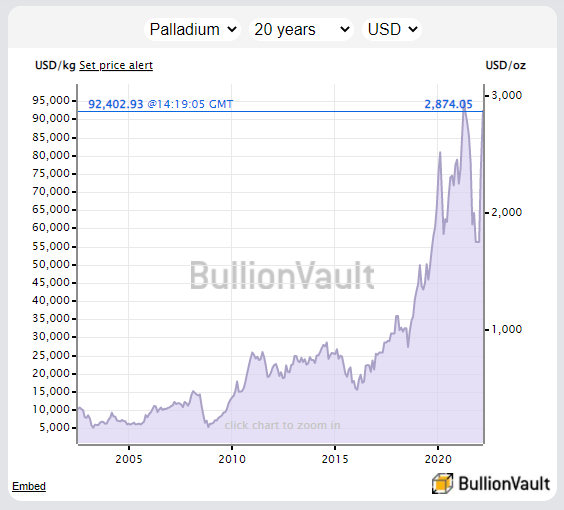 Prices for palladium
– used in emission-reducing autocatalysts and with 40% of new supply mined in Russia each year – surged almost as much as crude oil, up 14% to $3444 per ounce Monday morning after climbing 27% last week.
With most of Europe's airspace
now shut to any Russian traffic
, No.1 palladium miner Norilsk Nickel is considering "alternative routes" says news-wire reports.
Palladium prices then retreated fast however, falling back below the weekend's level with a drop of $600 and more.