Gold Price Falls with Stocks as Bond Market's Bear Steepener Says 'Higher for Longer'
Thursday, 10/05/2023 16:53
The GOLD PRICE slipped to new 7-month lows in both Euro and Dollar terms on Thursday, losing over 6% from this point in September as European equities rallied from near-3% month-on-month losses but the US stock market fell again even as longer-term interest rates paused their sharp 'bear steepener'.
Gold priced in Dollars touched $1813 while Euro gold dipped to €1725.
Silver meantime extended its plunge to $20.80 per Troy ounce, down more than 12% as longer-term interest rates have jumped over the last month.
While 2-year US bond yields have now risen by 0.06 percentage points from the first week of September, the annual yield offered by 10-year Treasuries has jumped by almost half-a-point, also setting fresh 16-year peaks.
That has squashed the
'inverted' yield curve
between 10- and 2-year rates, and the yield curve has also steepened sharply on most other G20 economy government debt, most especially rich-world bonds, with 10-year rates rising by 0.5 percentage points or more relative to 2-year rates for Australia, Canada, Germany and Italy, with the UK close behind.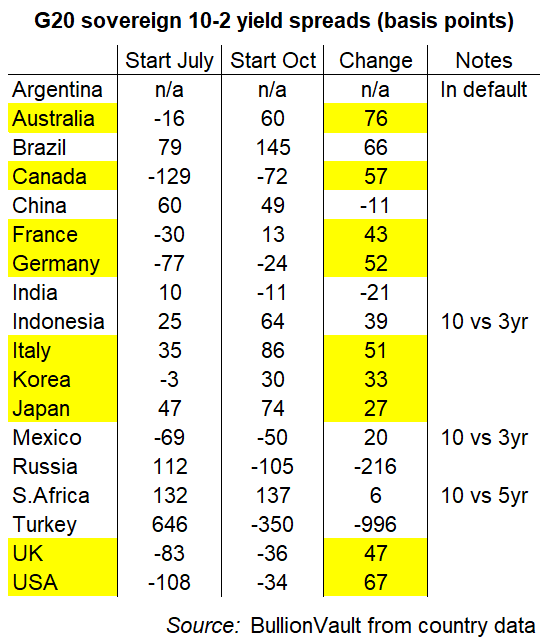 Challenging a view on Bloomberg that "the bond market [is]n't buying the soft landing thesis, I disagree!" says one US financial advisor.
US factory orders rallied better than analysts expected in August, new data said Wednesday, and job openings nationwide rose from July's 28-month low on the government's 'Jolts' data.
But the country's services sector saw activity growth slow towards zero on the S&P PMI survey while retreating from the strongest growth in 6 months on the ISM data, and – ahead of tomorrow's September jobs report from the Bureau of Labor Statistics – yesterday's ADP Payrolls meantime showed the weakest monthly growth in US employment since January 2021, missing consensus forecasts by over 50%.
Looking at who might be selling bonds and pushing down prices, "The Fed
isn't technically selling
" but just not re-investing cash from maturing QE holdings, says Brad Setser, senior fellow at the Council on Foreign Relations.
"China probably isn't selling either [and] Japanese investors aren't selling like they did at times last year. [So] the structural issue in the Treasury market isn't so much outright sales, as the absence of price insensitive buyers.
Over the 3 months to Wednesday, the yield offered by 10-year US Treasury bonds rose almost 70 basis points faster than 2-year yields, close to matching the steepening of early 2021 and barely 10 basis points behind the shock 'bear steepener' of mid-2013.
The Dollar gold price sank by more than $400 per Troy ounce over the 3 months when that 2013 yield-curve steepener began, losing $200 in the first 3 months of 2021, and now dropping over $100 since early July this year.
Over the last 5,000 trading days however, the gold price has shown a statistically insignificant connection with the 10-2 yield spread on average, giving a median daily r-correlation of -0.13 on a 3-month basis.
That's exactly the same reading as that shown over the last 10 years between the 10-2 spread and the S&P500 index of US corporate shares, with both bullion and stocks also showing periods of strongly positive co-movement with the spread.
With gold priced in Russian Rubles meantime down over 5% from this time last month, the Finance Ministry in Moscow – locked out of international markets by US-EU sanctions over President Putin's war on Ukraine – yesterday said it's
looking to buy the equivalent of $4bn
in gold and foreign currencies over the next 4 weeks.