Gold and Silver Prices Whacked by 'Higher for Longer' Bond Market Rout
Tuesday, 10/03/2023 14:39
The GOLD PRICE rallied from the past week's 5% plunge in London trade today, bouncing $10 from $1815 per Troy ounce as silver also rose from a new 7-month low but held nearly 9% lower from last Tuesday as longer-term interest rates continued to hit fresh multi-year highs in the bond market following more 'hawkish' comments from US Fed policymakers.
Global stock markets fell for the 12th time in 13 sessions, pulling the
MSCI World Index
back towards last week's 4-month low, almost 7% beneath late-July's 15-month peak.
Crude oil also extended its drop, falling for the 4th session running and dropping near 4-week lows at $90 per barrel of Brent.
"The rout in Treasuries, which is costing gold and silver, [has] intensified...as the market continues to digest the 'higher for longer' messaging [from] the Fed," says a trading note from Swiss bullion refining and finance group MKS Pamp.
"Support has developed at the start of this week, but potential professional buyers [have] stood well back."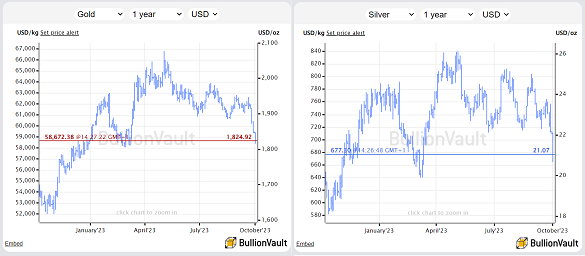 "I see a continued risk that high energy prices could reverse some of the progress we have seen on inflation in recent months," said Fed governor Michelle Bowman, a voting member of the US central bank's policy team, adding that she expects "
further rate increases will likely be needed
".
That plural means she's "urg[ing] multiple rate hikes" according to
Bloomberg News' headline writers
, something predicted by neither the Fed's own forecasts nor market pricing in Fed Funds futures.
"Predictability is just gone. It's very hard to operate a business without predictability," said a small business owner to Fed chairman Jerome Powell at a roundtable meeting with members of the public in York, Pennsylvania on Monday.
"We'll get inflation down," Powell replied.
But "lower interest rates" were the No.1 ask for another small business owner at the meeting.
"We are at, or near, the peak level," said New York Fed president John Williams in a speech on Friday, "[but] I expect we will
need to maintain a restrictive stance
of monetary policy for some time."
"Progress is being made," said non-voting committee member Loretta Mester of the Cleveland Fed, "but the level of
inflation remains too high
...We are not there yet."
"I think there is case to be made that the US economy is a lot more resilient than we thought," said her fellow alternate member Thomas Barkin of the Richmond Fed in a Bloomberg interview aired yesterday, suggesting "a somewhat
higher-for-longer rate path
."
With China still out for the National Day holidays, gold priced in Japanese Yen today bounced off a new 10-week low beneath ¥8,750 per gram – over 5% below last month's
new all-time Yen gold highs
– as Japan today raised the coupon it pays to buyers of new 10-year government debt to 0.8% per annum, the
highest in a decade
, even as Tokyo's central bank prepares to buy bonds tomorrow to try pushing down borrowing costs down from that level.
Ten-year borrowing costs in Germany – which "need[s] to
normalise fiscal policy
" by cutting spending versus tax revenues, says Bundesbank central bank boss Thomas Nagel – today marked the country's Reunification holiday by rising towards last week's decade-high near 3.0% per annum.