Gold Price Hits Pre-SVB Low as Fed Vows to Halve Inflation with High Rates
Thursday, 8/17/2023 16:01
GOLD PRICES failed to hold a rebound back above $1900 per Troy ounce in late London trade Thursday, fixing around $5 lower at the afternoon benchmark auction as global stock markets fell once again with bond prices following yesterday's release of 'hawkish' notes from the US Federal Reserve's latest interest-rate rise meeting.
With US
inflation on the core PCE measure
running at 4.1% on the latest data – a 3-decade high when reached in late-2021, but down from February 2022's four-decade peak above 5.4% – "Participants continued to judge that it was critical that the stance of monetary policy be sufficiently restrictive to return inflation to the Committee's 2% objective over time," the Fed minutes said.
Well over 1-in-3 bets on Fed rates now see the US central bank raising rates again before New Year 2024 – up from barely 1-in-5 this time last month according to the CME derivatives exchange's
FedWatch tool
– and the consensus betting doesn't now see any cut to Fed rates before May.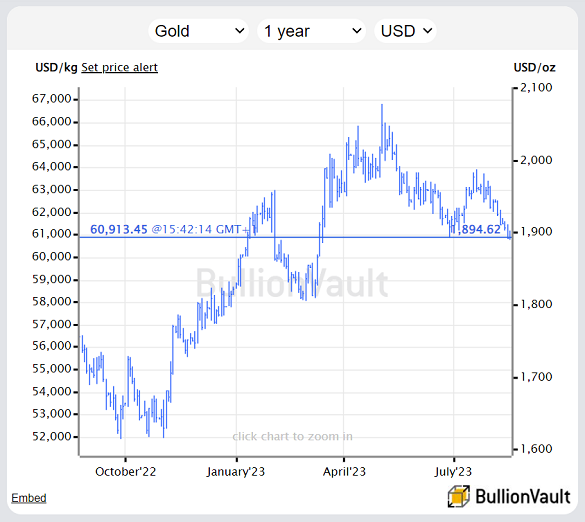 In particular, "Commercial real estate weakness came up more than once, notably with reference to risk to smaller/medium sized banks," she adds, wondering if this is "Reminiscent of 2007?" when the Fed delayed cutting rates for fear of allowing inflation to take hold despite the
then-snowballing subprime property crash
.
Wednesday's strong US house-building and industrial production figures were today followed by data showing continuing claims for jobless benefits rose faster than analysts forecast at the beginning of August, but initial claims fell as expected last week.
"[But] job gains [have] been robust...the unemployment rate [has] remained low...the economy ha[s] been showing considerable momentum [and] the US banking system [is] sound and resilient. Against this background, the Committee remain[s] highly attentive to inflation risks."
So-called real interest rates rose again on Treasury Inflation-Protected Securities on Thursday, putting the benchmark TIPS yield at
a fresh 14-year high
of 1.96% per annum.
Giant
gold-backed ETF
the GLD didn't change in size Wednesday despite the Fed minutes and gold price drop, holding at the smallest since January 2020, while the smaller IAU product from iShares remained at its smallest since March this year.
Silver meantime spiked briefly to $23 per Troy ounce Thursday but fell back 30 cents to trade unchanged for the week so far, up from Tuesday's 2-month low of $22.23 per ounce.