Gold Price Doubles 2009 Level as Real Interest Rate Hits 14-Year High
Wednesday, 8/16/2023 15:55
The DOLLAR price of gold fixed above $1900 per Troy ounce yet again on Wednesday, holding that level at London's afternoon benchmark auction as global stock markets also traded unchanged ahead of the Federal Reserve publishing minutes from its end-July meeting, when policymakers raised the cost of borrowing because "inflation remains elevated".
With the
Fed raising its key interest rate
to a ceiling of 5.5% last month, US inflation accelerated to 3.2% per year while the underlying cost of living – excluding food and fuel prices – saw inflation edge back to 4.7%.
So-called 'breakeven' inflation forecasts in the bond market have dropped by half-a-percentage point since the Fed began raising overnight interest rates from zero in March last year, holding at 2.3% per annum on a 10-year horizon in Wednesday's trade as the yield on 10-year Treasury Inflation-Protected Securities – widely known as the 'real rate' of interest – slipped just 1 basis point today from Tuesday's finish at 1.89% per annum, the
highest since early July 2009
.
Gold prices were then trading at $920 per Troy ounce.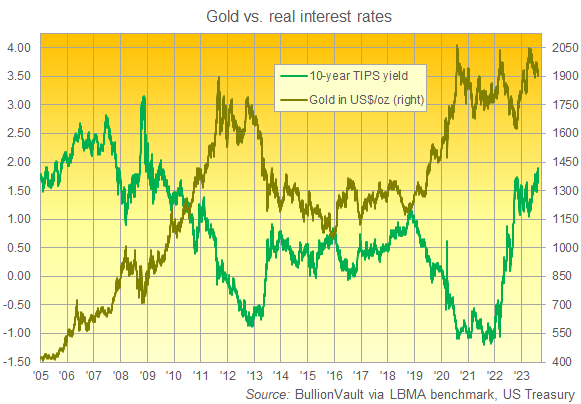 "[This] significant tightening of financial conditions, on top of what the Fed is doing...will collectively sap liquidity-sensitive precious metals in the near-term," says a note from strategist Nicky Shiels at Swiss gold bullion refining and finance group MKS Pamp.
"[But] it looks like fragile international economies (with some local catalysts) are crumbling under the weight of the toxic mix of higher US Dollar and higher US interest-rate regime...[backing the case for] gold increasingly becoming an insurance policy for investors with higher portfolio allocations."
Most plainly, says Shiels, "China IS a massive worry for commodities."
Oil prices today rallied after slipping almost 3% from last week's new 2023 highs as news of a stronger-than-expected drawdown in US stockpiles offset concerns over
the economic slowdown in China
but copper held near 2-month lows as the Chinese property sector's debt repayment crisis
spread to state-owned developers
.
Following yesterday's surprise cut to People's Bank interest rates, the Communist dictatorship in Beijing "will
strengthen the coordination
of various policies...boosting consumption and promoting investment" state media said on Wednesday following a cabinet meeting chaired by premier Li Qiang.
"Chinese modernization is
the modernization of common prosperity
for all, which differs from Western modernization," says a new article from President Xi Jinping, published today in the Chinese Communist Party's quarterly Qiushi Journal.
"Efforts should be made to ensure that the achievements of modernization benefit all more fairly and prevent polarization."
Silver in contrast held little changed for the day at $22.60 per ounce, down $2.50 from the peak hit 4 weeks ago.