Gold Price Sinks But Still $50 'Over-Priced' vs. US Fed Expectations
Wednesday, 6/21/2023 16:33
The PRICE of GOLD fell further on Wednesday, extending yesterday's drop through what some analysts called 'key support' at $1940 as Federal Reserve chairman Jerome Powell repeated that US interest rates will rise again by year-end after strong house-building data saw betting that the Fed will instead pivot and start cutting the cost of borrowing fall towards zero.
New US housing starts yesterday came in 21.7% higher for May than April, the fastest month-on-month jump since October 2016.
The number of new US building permits issued last month also rose to defy analyst expectations of a slowdown in activity.
"It will take time for the full effects of monetary restraint to be realized, especially on inflation," Powell said in
today's testimony to Congress
, explaining last week's
decision to 'skip' another rise
at the Fed's June meeting after raising overnight Dollar borrowing costs by 5 percentage points per annum since early 2022.
"[But] nearly all [Fed] participants expect that it will be appropriate to raise interest rates somewhat further by the end of the year."
Fixing Tuesday at the lowest since mid-March at $1930 per Troy ounce, gold bullion slid to a fresh 3-month low at $1920 in spot trade today, before regaining that $10 drop around this afternoon's London benchmarking auction.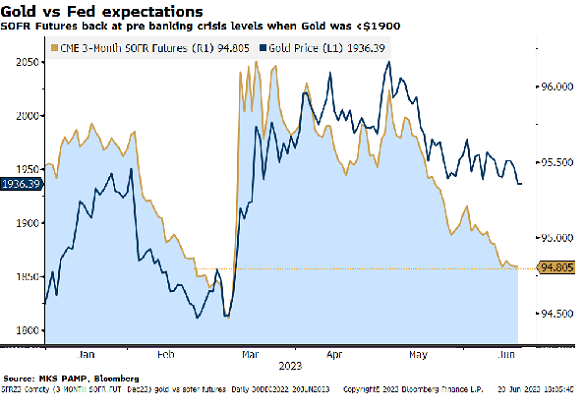 "All Fed cut bets in 2023 are off the table and with that the premium needs to be unwound in gold," said a note overnight from precious metals strategist Nicky Shiels at Swiss bullion refining and finance group
MKS Pamp
.
Shiels' chart above shows the price of 3-month futures contracts on SOFR – the
Secured Overnight Financing Rate
, a broad measure of the cost of borrowing cash collateralized by US Treasury bills or bonds and therefore "a proxy for Fed hikes/cuts expectations versus gold."
Year-to-date, the daily correlation between SOFR prices and gold priced in Dollars is running at a "strong +0.60 and at the current SOFR level, the model implied gold price is $1878...a full $50 lower."
Tuesday's US house-building data meant gold's "notable floor around $1940...broke down" says Shiels, and "stacking up against support" from solid central-bank, jewelry and retail coin and
gold bar
demand are now "persistent ETF outflows...no appetite from discretionary [investment manager] accounts...[and] soft physical Chinese demand."
Together, says Shiels at MKS, this means that "while structural demand drivers are still there for [gold] as a longer-term asset class, it's been in no-man's-land for too long and [the] news cycle is simply slow, which usually implies a rerating lower in the near term."
The Euro gold price also dropped to new 3-month lows Wednesday, trading as low as €1759 after European Central Bank executive member and economics professor Isabel Schnabel said the 19-nation currency union's labor market remains "incredibly strong", meaning the ECB must act to prevent a "wage-price spiral" driving inflation higher again.
"Aggregate demand may be slowing by less than currently anticipated," Schnabel already
said in a speech Monday
, "implying that fiscal and monetary policy are not sufficiently restrictive."
The UK gold price in Pounds per ounce meantime hit its lowest since end-February at £1510 ahead of tomorrow's Bank of England decision, now expected to bring a half-point hike to Sterling interest rates after consumer-price inflation in the world's 5th largest economy failed to slow on May's data, with the 'core' cost of living accelerating to a 7.1% annual rise, the fastest pace in 4 decades.
Silver prices today
fell harder than gold yet again, following Tuesday's $1 plunge with a drop to new 3-month low at $22.50 per Troy ounce.