High Gold Prices Hit Chinese, Indian Demand
Tuesday, 6/20/2023 13:48
GOLD PRICES flat-lined against a weaker US Dollar on Tuesday, treading water around $1950 per Troy ounce as China's central bank cut interest rates again, contrasting with the 'hawkish' stance of the US Federal Reserve.
With Fed boss Jerome Powell speaking to lawmakers tomorrow about the US central bank's outlook on the economy, inflation and interest rates, global stock markets retreated but held near recent highs, with Japan's Topix index edging 0.3% lower from fresh 3-decade records while India's Sensex closed within 0.5% of new all-time highs.
China's CSI300 index meanwhile slipped 0.1% from 3-week highs as the People's Bank cut yet more target borrowing costs following a raft of worsening data for the world's No.2 economy.
Prices for gold in China, the precious metal's No.1 consumer market, today edged up to ¥451 per gram on the Shanghai Gold Exchange, the highest in almost a month.
But with the Yuan falling on the currency market to new 6-month lows against the Dollar, that's seen the Shanghai gold price cut its premium above London quotes below $4 per ounce, less than half the typical incentive for new imports of bullion, with prices dipping to a discount last Thursday for only the 13th time in the last 12 months.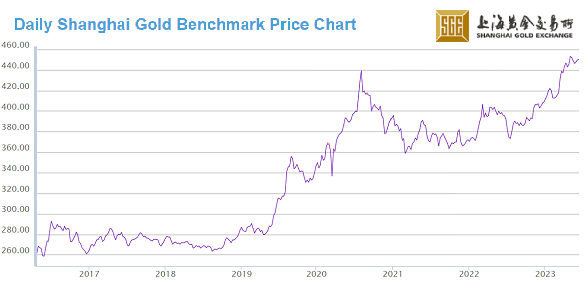 Last month's retreat from new all-time record highs in the Yuan gold price saw retail sales of gold and silver jewelry grow
more than 27%
compared with May last year according to data from China's Ministry of Commerce.
But "People are [now] pretty cautious in spending cash right now amid various uncertainties,"
Bloomberg quotes
one precious metals manager. "We may not see a rapid surge in purchases again without a slump in gold prices."
"Weakening economic growth in China is dampening prospects of industrial demand," says a note from
analysts
at Australasian bank ANZ, "and this is reflected in a retreat in the Shanghai spot premium for silver, which has been on a downtrend since April with retreating silver imports."
Silver prices for London settlement today edged back to $23.65 per ounce while platinum fell further to $965 but palladium held above $1400.
Gold imports into No.2 consumer market India are "a concern" for the government, the New Indian Express
quotes
one 'top official', down more than 39% in April-to-May from the same period in 2022 and signalling "distress in the [gems and jewelry] sector, which employs millions of people."
"There is a decline in imports because of soaring prices," says Suvankar Sen, managing director and CEO of jewelry brand and retail chain Senco Gold.
"Though revenues haven't fallen [sharply]," agrees a competitor, "there is a decline in the overall footfall in the market."
Record-high Rupee gold prices mean the administration of Narendra Modi's BJP should "rethink" its Sovereign Gold Bond scheme targeting household investors, says the India Gold Policy Centre
think-tank
, because the unit price for SGBs now nearing maturity and therefore needing to be repaid by the government had already risen from INR 2,600 at launch in tax-year 2015-16 to INR 5,600 last fiscal.
Euro gold prices today edged back to €1784, down 5.0% from start-May's new spot-market record, while the
UK gold price
in Pounds per ounce rallied £10 from yesterday's new
3.5-month low
of £1520 ahead of Thursday's Bank of England decision, widely expected to bring a steep half-point hike to UK borrowing costs as inflation runs at the strongest among rich-world economies.