Gold Price Spikes to Record as US Fed Goes 'Data Dependent' Amid Banking Crisis
Thursday, 5/04/2023 16:57
GOLD PRICES
rose sharply on Thursday, challenging
mid-April's near-record London benchmark
fix for physical bullion after frantic trading in futures and options set a new all-time high at the start of Asian trade following yesterday's US Fed decision and comment on raising interest rates to 17-year highs despite the ongoing US banking crisis and debt-ceiling standoff.
The European Central Bank then made its smallest hike to Euro interest rates since this cycle began last July, raising rates like the Fed by only 0.25 points but saying that inflation across the 19-nation currency zone – estimated at
7.0% per year for April
– "continues to be to high for too long" as it took the
return paid to deposits up to 3.25%
, the highest since the global financial crisis of 2008.
Global stock markets meanwhile fell to 5-week lows, led again by US banking shares, as trading in regional lender PacWest (Nasdaq: PACW) was suspended after it halved in value for a 2nd day running on fresh concerns of its
SVB-style depositor-base and lending book
.
"The US banking system is sound and resilient,"
said the Federal Reserve
as it raised Dollar interest rates by 0.25 points to a 17-year high above 5.0% per annum as expected on Wednesday.
But while "the unemployment rate has remained low [and] inflation remains elevated...we will [now]
take a data-dependent approach
in determining the extent to which additional policy firming may be appropriate," said Fed chairman Jerome Powell at his post-decision press conference.
Betting leapt that the Fed will now pause at its new ceiling of 5.25% and then start cutting interest rates, cutting the CME futures market's consensus forecast for end-2023 rates from 4.58% this time last week to 4.29% today, the lowest in a month.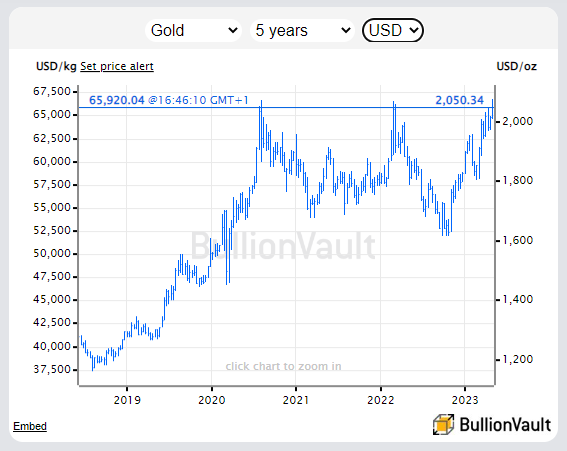 Topping August 2020's intraday record of $2075 by $3 per ounce, the overnight spike in spot gold was followed by a 0.9% rise for the day to Thursday morning's LBMA Gold Price and then a 1.5% day-on-day rise towards $2045 at the PM fixing.
Gold's brief spike also set a new all-time highs in Sterling at £1653 and set a record-high print in Indian Rupees close to 61,500 per 10 grams.
The surge in prices has seen India's household gold demand sink, driving local dealers to offer
discounts as deep as $57
per ounce to import prices today according to Reuters.
Shanghai premiums over London quotes also fell Thursday as the gold price spiked following the Fed's decision, dropping to $2.50 per ounce – the lowest in 2 weeks and less than 1/3rd the typical incentive for new imports of bullion into China, the metal's No.1 consumer nation.
With US job openings already falling to the lowest in 2 years as lay-offs rise, the US 'debt default' which would technically follow a failure to raise Washington's debt ceiling before its borrowing reaches the
current limit of $31.4 trillion
– next due to happen at the start of June – will see another
8 million Americans lose their jobs
, according to White House economists.
President Joe Biden is set to meet key congressional leaders for face-to-face talks about the debt ceiling next week, even as some aides as well as some Democrat and Republican politicians call for him to
use a clause in the 14th Amendment
to raise the debt ceiling unilaterally by executive order.
Economist and
New York Times
columnist Paul Krugman has meantime dug out the trillion-dollar
platinum coin 'solution' yet again
, plus a new "end run" of Washington issuing premium bonds to keep borrowing without breaching the official debt limit.
Platinum
in the bullion market today fell towards a 3-week low beneath $1040 per ounce, while silver unlike the gold price didn't spike at the start of Asian trade today but rose throughout London hours to peak near last month's 1-year highs of $26 per ounce.