Gold and Silver Prices Jump to 1-Year Highs as Dollar Falls on 'Return to Low Inflation'
Thursday, 4/13/2023 15:28
GOLD and SILVER PRICES broke to new multi-month highs against a falling Dollar on Thursday as fresh US inflation data said pricing pressures are easing back in the world's largest economy, boosting bets that the Federal Reserve will start cutting interest rates this summer.
After yesterday's Consumer Price Index for March
gave a weaker-than-expected headline
reading, new figures today said input costs for US producers of good and services fell 0.5% last month from February, pulling 12-month inflation in
the Producer Price Index
down by more than 2 percentage points to 2.7%, the slowest pace since January 2021.
Western stock markets rose with longer-term bond prices, edging yields further down and reducing both the opportunity cost of owning non-yielding gold and also the funding cost of betting that gold or
silver prices
will rise in future.
Silver jumped within 5 cents of $26 per ounce, its highest since mid-April last year as the Dollar dropped to 2-month lows against the rest of the world's major currencies.
Gold meantime jumped above $2045 per ounce – its highest since
March 2022's spike on Russia
invading Ukraine – while the Dollar Index (DXY) dropped towards February's 10-month low beneath 101.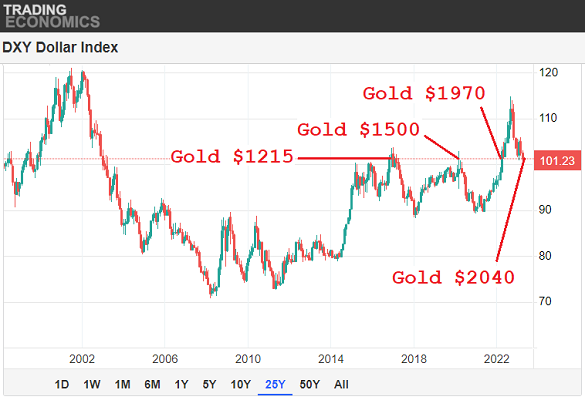 When the Dollar Index crossed up through that level in late 2016 – then a 13-year high – gold traded at $1215 per ounce, rising to $1500 by the Dollar's next rise through 101 in mid-March 2020 and then reaching $1970 at the Dollar's next rise through that level in mid-April 2022.
"We are headed back to a low inflation world, that's the message of the market right now," claims one currency analyst to Reuters.
"The next big trade is that the inflation scare is over."
While betting on next month's Fed decision continues to see a 2-in-3 chance that the US central bank will raise rates again, all but 1.3% of betting on year-end rates sees the Fed then retreating, with a cut to 4.5% or lower now put at a 2-in-3 shot.
Excluding volatile fuel and food items, US producer-price inflation slowed less dramatically last month to 3.4% per year, today's figures said, its slowest since March 2021.
The
UK gold price in Pounds per ounce
meanwhile rose within 1% of last month's new all-time high of £1648, while the Euro price broke above 1850, less than 1.9% below last month's peak and 2.7% beneath the record high set as Russia began its invasion of Ukraine last spring.