Gold Swings Below $2000 as China Buys, Russia Sees 'New World War', $100bn Withdrawals Hit FRC
Tuesday, 4/25/2023 15:22
GOLD PRICES rallied from another swift drop in terms of all major currencies Tuesday lunchtime in London, bouncing but then slipping again to trade $15 below $2000 per ounce as new data said China's consumer demand to buy gold rose in the first quarter while mid-tier US bank First Republic was hit by $100 billion of depositor withdrawals.
The head of the United Nations and a senior Kremlin official both said the world faces a genuine risk of major-power conflict as Russia's invasion of Ukraine met what some analysts believe to be the start of Kyiv's spring counter-offensive.
With gold trimming its 0.9% rebound from an earlier low of $1976 after briefly topping $2000 per ounce at the start of Asian trade overnight, silver prices shot higher from a sudden spike down to 3-week lows of $24.50, rebounding but failing to regain the $25 level.
Platinum prices
fell further from Friday's 13-month highs before rallying $10 to trade back at $1080, while sister autocat metal palladium erased all of last week's 9.3% spike to dip through $1500 per ounce.
"The risk is that the cost of emergency funding proves too expensive for the smaller banks."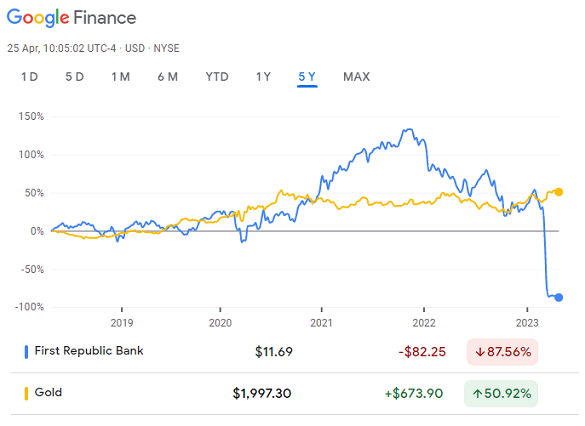 "Benefiting from the increase in safe-haven demand, [China's] consumer demand for gold bars and coins has achieved substantial growth," said Beijing's government-mandated China Gold Association today, reporting an annual
rise of 20.4% in first-quarter gold retail-investment product
purchases while demand to buy gold jewelry between January and March – consistently the No.1 gold consumer nation's busiest period thanks to the Lunar New Year holidays and gift-giving – rose 12.3% from the first 3 months of 2022.
"Tensions between major powers are at historic highs. So are the risks of conflict through misadventure or miscalculation," said UN Secretary-General Antonio Guterres on Monday, joining the US, UK, French and Japanese ambassadors to the United Nations in
condemning the Kremlin's invasion of Ukraine
at a session on "Effective Multilateralism" led by Moscow's foreign minister Sergei Lavrov as Russia assumed the rotating presidency of the 15-member Security Council in New York.
Medvedev last month
threatened to fire hypersonic missiles
at the International Criminal Court in The Hague after it issued arrest warrants for President Putin and Russia's commissioner for children's rights Maria Lvova-Belova over the kidnap and deportation of minors from Ukraine.
With the Dollar rallying as world stock markets slipped ahead of this week's US GDP and inflation data releases, the gold price in Euros rallied back above €1800 per ounce and the UK gold price recovered the £1600 level.
Beijing's communist dictatorship today said it will
prosecute a Taiwanese citizen
it arrested last year for promoting "separatism" and "secession".