Gold Price Falls as Fed's Powell Speaks, US Data Miss Badly, Euro Confidence 'Elevated'
Tuesday, 2/27/2018 13:46
GOLD PRICES fell as new US Fed chair Jerome Powell began his first testimony to lawmakers on Tuesday, retreating to last week's closing level as the US Dollar rallied from a fresh drop on the currency market.
New data meantime missed analyst forecasts, showing the US trade deficit in goods widening badly even as orders for larger domestic applicances and other durable goods
sank 3.7% from the month before
, led by a hard drop in vehicle demand.
"Investors will be keen to hear what Powell has to say particularly over the [Fed] balance sheet and his views on inflation," reckoned Australian bank ANZ's analyst Daniel Hynes earlier today.
Overnight in Asia the Chinese Yuan gapped higher versus the Dollar, halving the last 3 weeks' retreat from its highest levels since 2015's sudden devaluation by Beijing.
Looking at the Japanese Yen, "A break below ¥107.00 for USD/JPY leading into the Shanghai open gave the yellow metal a boost toward $1335," says today's bullion trading note from Swiss refining and finance group MKS Pamp.
With the Dollar then seeing "further weakness" against the Chinese Yuan, "Firm interest on the Shanghai exchange kept bullion buoyant at a $7 on-shore premium relative to London pricing," MKS's trading team goes.
Having shown its strongest and longest positive correlation the Yen's exchange rate against the US Dollar in 2017, gold today fell back with the Japanese currency ahead of Powell's speech, erasing the last of Monday's 0.9% gain to trade back at $1329 per ounce.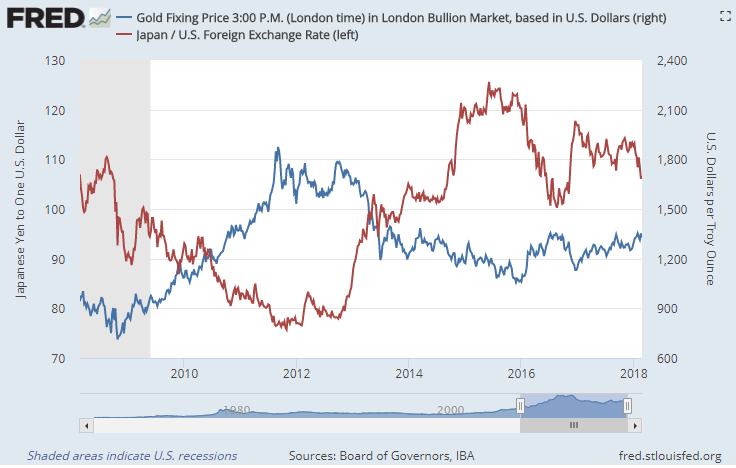 "Inflationary pressures out of the US are likely to see bullion supported over the medium-term," says MKS Pamp.
"However susceptibility remains [for] a test toward $1305-1310 over the shortterm."
New data Tuesday said inflation has slowed this month in Germany – the Eurozone's single largest economy, with a trade surplus greater even than China's in 2017.
Retreating to 1.2% annual inflation on this first estimate, Germany's harmonized
index of consumer prices
showed its slowest rate of gain since late 2011.
German government Bund yields ticked higher today however, edging interest rates higher with US and other major economy bond yields even as European stock markets failed to follow Asian equities higher.
Commodity prices also fell alongside Eurozone equities and bond prices, taking Europe's benchmark Brent crude oil price down near $67 per barrel.
Industrial and consumer sentiment in the 19-nation Eurozone slipped in February, new survey data said Tuesday, but economic confidence
remains "historically elevated"
according to the European Commission.
"We think the global economy has room to run," says investment strategist Tushar Yadava at the iShares ETF division of asset-management giant BlackRock, "but we also think inflation is probably making a comeback."
Echoing a
growing chorus
of analysis predicting that solid 2018 global growth will see inflation rise, "With all these factors...gold is the hedge, it is the strategic holding to be a diversifier in your portfolio," Yadava tells ABC News.