China Gold Premiums Jump as Fear of the Fed Whacks Dollar Price
Friday, 2/17/2023 14:37
GOLD PRICES hit new 2023 lows Friday, attracting strong demand in No.1 consumer nation China, as silver fell to the cheapest since end-November against a rising US Dollar.
Global stock markets and fixed-income bond prices also fell amid resurgent fears of steeper Federal Reserve interest rate hikes ahead.
Down 2.5% and 4.2% for the week respectively at this morning's lows of $1820 and $21.20 per ounce, gold and silver prices then rallied slightly as global stock markets also trimmed their losses but left the MSCI World Index unchanged from last Friday's finish.
Commodities and energy prices sank further, knocking almost 5% off crude oil from this time last week and more than 10% from this time last year, eve of Russia's invasion of Ukraine.
Erasing all of 2023's earlier 7% rise in Dollar terms, gold bullion today found strong interest on the Shanghai Gold Exchange, with the city's premium over comparable London quotes rising near $35 per ounce, the highest incentive for new imports into gold's No.1 consumer nation in more than 3 months.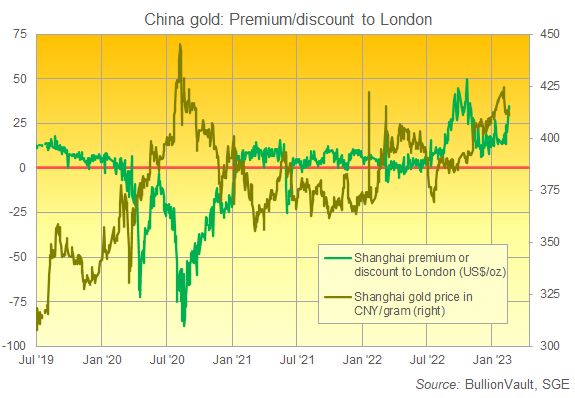 That means Shanghai gold has averaged more than $19 per ounce above London quotes so far in 2023, almost 4 times last year's $5 average across the 3 weeks prior and 3 weeks following
the heavy gold-buying festival of Lunar New Year holidays
– now the world's heaviest consumer gold-buying event, ahead of Diwali in India.
In 2021 the Shanghai gold premium averaged barely $3 per ounce to this point in February, down from $4 in 2020 and $10 in 2019 on data compiled by BullionVault.
Data from the mining-industry's World Gold Council says 2023 has
so far seen
the strongest Shanghai gold premium since 2011.
"We will we stay the course until our job is done," New York Fed president John Williams said
in a speech to bankers
on Tuesday, echoing chairman Jerome Powell's own comments on rates needing to stay 'higher for longer' to defeat inflation and avoid a replay of the late-1970s' rebound under his predecessor
Arthur Burns
.
After the Fed raised by only 1/4-point on 1 February, betting on a half-point hike has now jumped to 1-in-5 among interest-rate speculators, according to the CME derivative exchange's FedWatch tool, its highest in 5 weeks.
With leading 'dove' Lael Brainard leaving the Fed to become top economic advisor to President Biden in the White House, "[this] raises the risk of a recession," the
Wall Street Journal
quotes one forecaster, "because it
could lead the central bank to raise rates
more aggressively this spring."
The
'recession warning' of on inverted yield curve
continued on Friday, with the yield on both 6- and 12-month Treasury debt rising above 5.0% per annum while 10-year yields reached only 3.88%, signalling market expectations that interest rates will have to fall sometime in late 2023 or early 2024.
The protests follow the widespread and sometimes violent
anti-Zero Covid unrest
which led Beijing to abandon the policy this New Year.
Newly-built houses in 56 of China's 70 largest cities cost less in January than in the same month last year,
new figures
from the Communist regime's official NBS data agency said Thursday, and the price of existing homes prices fell in all but five.
China's real-estate downturn has led some banks to offer mortgages to elderly borrowers aged 70 and above, CNN reports, quoting analyst Yan Yuejin at property services firm E-House China Holdings.