Gold Price Enters Year of the Rabbit at Record Chinese New Year Highs
Friday, 1/20/2023 14:49
The GOLD PRICE traded at record Chinese New Year highs on Friday in terms of both the Chinese Yuan and the US Dollar as well as most other major currencies, extending its 2023 surge to need what many traders and analysts called an overdue pullback.
Gold in the world's largest mining and consumer nation entered the Year of the Rabbit with a new record lunar-new year high of ¥422 per gram at the Shanghai Gold Exchange's benchmarking auction.
That was just 5% below the all-time SGE high reached in August 2020 during the first wave of Covid.
With gold landed in Shanghai rising 2.9% in Yuan terms so far in 2023, the CSI 300 index of Chinese corporate stocks also rose again Friday, entering the Year of the Rabbit 8.0% higher from the end of December with close to its fastest 3-week gain since New Year 2021.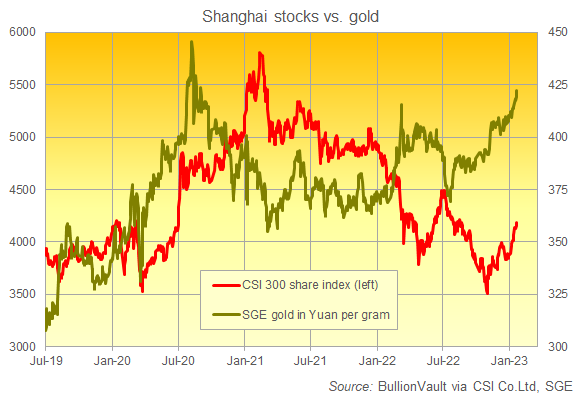 For Dollar gold prices, and "after this 2-month relentless run through $1900, gold is entering Chinese New Year at its most expensive level on record," notes strategist Nicky Shiels at bullion refining and finance group MKS Pamp.
"That adds to the bearish anxiousness growing in the gold marketplace as prices remain both technically overbought in the short-term and just simply a little overcooked."
"Gold is overbought and needs to correct," agrees a client note from precious-metals specialist Rhona O'Connell at brokerage StoneX.
"The Chinese New Year may help to prompt this as China is on holiday for a week as of tomorrow...[So] if the $2,000 mark were attained in the near future, then it would almost certainly be a case of 'blink and you miss it'."
While Thursday saw giant US gold ETF the GLD expand again, heading for its 1st weekly growth in 3, the premium above global prices for bullion landed in China sank below $9 per ounce as the New Year shutdown began, back in line with the typical historic incentive for new imports after holding 2-3 times higher so far in January.
Platinum in contrast failed to bounce, heading for its lowest weekly finish since Christmas Eve at $1029 per ounce, as did palladium at $1726.
"China's economic recovery and
gold consumption should benefit
from the end of the strict zero-Covid policy and policy makers' prioritisation of consumption stimulation," says a blog from Ray Jia at the mining industry's World Gold Council.
With speculative trading in China's gold markets rising sharply ahead of the traditionally strong Spring Festival sales period for jewelry and other consumer items, gold turnover on the Shanghai Gold Exchange reached a 1-year high last week, says a note from Japanese conglomerate Mitsubishi's bullion team, "as China's domestic economy opens up [after the end of Zero Covid amid] a great deal of buying ahead of the Lunar New Year holiday."