Gold Price Sets Record Run Above $2000 on 10th Anniversary of Trillion-Dollar Crash
Wednesday, 4/12/2023 15:01
The GOLD PRICE marked the 10th anniversary of its April 2013 crash by jumping to 1-week highs of $2025 per ounce in London's wholesale market on Wednesday, trading above the key $2000 mark for a record 5th day in a row as new US data said that headline inflation in the world's largest economy is slowing harder than expected, boosting bets that the Federal Reserve is finished raising interest rates.
Failing to take out last Wednesday's 13-month high of $2032 however, the Dollar gold price then gave back all of that spike and more, retreating towards the $2000 mark once again ahead of today's release of meeting notes from the Fed's late-March rate rise.
That saw
silver prices
also erase a sharp spike, dropping 50 cents from a new 12-month peak of $25.60 per ounce.
The Consumer Price Index rose only 5.0% per year in the year to March
says the Bureau of Labor Statistics
, down from 6.0% in February, 0.2 percentage points below consensus forecasts, and the slowest annual inflation since May 2021.
But the 'core' CPI measure of inflation – stripping out volatile fuel and food costs – accelerated by 0.1 points from February's pace to reach 5.6% per year, outrunning the headline cost of living for the first time since December 2020.
The Dollar gold price had already traded around $2010 per ounce during Wednesday's 10:30am London benchmark auction today, fixing above $2000 for the 5th trading day in a row and beating the 4-day stretch set when the precious metal first breached that level in summer 2020 amid massive fiscal and monetary stimulus during the first wave of Covid pandemic lockdowns.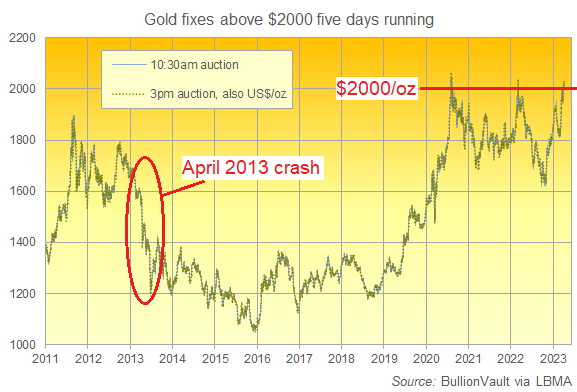 "Gold [had] bled lower from $2030 levels," said a note overnight looking ahead to the CPI data from Swiss refining and finance group MKS Pamp, "[thanks to] some profit-taking [as] physical selling and buyers' apathy sets in above $2000/oz.
"[But] sidelined bulls did not get what they wanted; a bigger flush toward $1950 to test where exactly physical floors lurk."
Fixing just $1 and $2 above $2000 per ounce at Tuesday's AM and then PM
London gold benchmark auctions
respectively, the spot bullion price leapt 1.0% inside 7 minutes of today's US inflation data.
Longer-term government debt also jumped in price, squashing the yield offered by 10-year US Treasury bonds down to 3.36% per annum, just 5 basis points above last week's 7-month low and 1 full percentage point below late-September's spike to the highest since summer 2007, start of the global financial crisis.
European stock markets rose and New York opened higher, while commodity costs also gained, led by crude oil reaching its highest since late-January above $86 per barrel of European benchmark Brent.
"At moments like this of financial stress, the right monetary approach
calls for prudence and patience
," said Chicago Fed President Austan Goolsbee in a speech yesterday, warning against another rate rise at the Federal Reserve's May meeting because of fragility in the banking sector highlighted by the
failure of Silicon Valley Bank
and Signature, as well as the forced takeover of Swiss giant Credit Suisse.
But the banking system has "really stabilized" said New York Fed chief John Williams – also a voting member of the FOMC this year – in separate remarks, repeating his view that discussion a quarter-point rise makes a "reasonable starting point" for May's meeting.