Gold and Silver Bullion Leap to 1-Year Highs on US Job Openings Plunge
Tuesday, 4/04/2023 17:10
GOLD and SILVER BULLION leapt in price Tuesday, hitting 13-month and 12-month highs respectively against a falling Dollar after new US data said the world's largest economy is seeing a steep drop in the number of new job openings.
Gold broke through $2000 per Troy ounce for the 4th time in 3 years while the silver price came within 7 cents of $25, a 7-year high when reached during the first-wave Covid Crisis of 2020.
With Friday set to bring
non-farm payrolls data
for March, today's US data said that US factory orders fell more sharply than expected in February while the number of job vacancies across the economy sank by well over 600,000 for the 2nd month running, marking the 5th worst decline on the
2-decade 'Jolts' series
and badly worse than the 163,000 drop predicted by consensus forecasts.
The Dollar gold price meantime hit $2020 per Troy ounce, extending last month's 6.4% gain with a further $40 rise already in April as bond yields sank and betting that the Federal Reserve will raise its key overnight interest rate once again at its next meeting in May fell hard.
Silver bullion rose faster, jumping 3.9% inside 90 minutes to come within 7 cents of $25 per ounce, the highest price since mid-April 2022.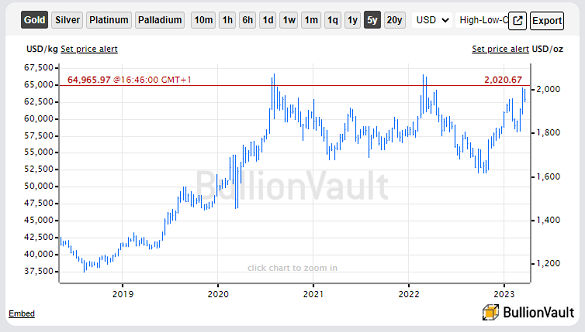 With money pouring into bullion and government bonds, the yield offered to new buyers of 2-year US Treasury debt sank to 3.86% per annum, down by 1/5th of a percentage point from last weekend and fully 1.0 percentage lower than this time last month.
Gold bullion has meantime risen by 8.6%, while the S&P500 index of US corporate stocks has added just 1.6% and silver traded 17.2% higher in US Dollar terms.
Having shrunk 2.7% in March, the giant iShares silver trust (NYSEArca: SLV) yesterday saw its first net outflow of investor cash in 5 sessions, cutting the quantity of bullion needed to back its shares in issue by 0.3% to 14,430 tonnes.
Giant
gold ETF
the SPDR Gold Trust (NYSEArca: GLD) in contrast expanded by 0.2% on Monday to need 930 tonnes of bullion – the most since mid-October – but the No.2 such product, the iShares Gold Trust (NYSEArca: IAU) was unchanged yet again having ended March at the same size as it began.
With the Dollar losing 0.5% on the currency markets, gold and silver jumped less steeply for UK and Euro investors, touching £1618 and €1648 per ounce respectively, but gold bullion set a new all-time spot-market high for Japanese investors at ¥8,581 per gram, more than 10% higher from this time last year.
Yesterday's ISM PMI report said that
US manufacturing activity shrank
for the 5th month running in March, with Europe also shrinking on S&P Global's PMIs while China flat-lined according to the Caixin survey.