Gold Prices Rise while Bond Yields Fall after 'Cooler-than-Expected' US Inflation Data
Thursday, 8/10/2023 15:06
GOLD PRICES rose after key US inflation data stayed in line with expectations, while the US dollar and US bond yields fell as bets the Federal Reserve will pause its rate in September cemented, writes Atsuko Whitehouse at BullionVault.
On Thursday, the Bureau of Labor Statistics reported that the annual headline US Consumer Price Index (CPI) for the month of July was 3.2%. This was slightly below the 3.3% forecast. July did see an increase from June's 3% and the first acceleration in the headline figure since June 2022.
Core CPI, a measure which strips out the volatile food and energy sectors, was 4.7%, lower than June's 4.8%.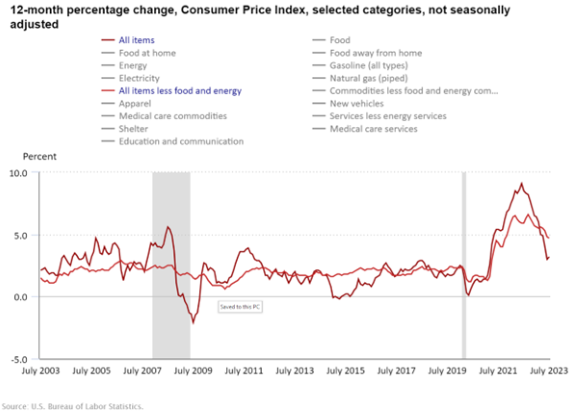 Ten-year US Treasury yields – a benchmark rate for government as well as many finance and commercial borrowing – edged lower down below 4.0%.
The Dollar index – a measure of the US currency's value versus its major peers – fell 0.4%, after trading in a tight range all this week.
The latest China's trade data this week fuelled concerns over growth prospects for the world's second-largest economy as exports declined by 14.5% year on year in dollar terms, the steepest fall since the outset of the coronavirus pandemic in February 2020. Imports tumbled 12.4%, the biggest decline since January 2023 and one of the worst in recent years.
China also reported on Wednesday that CPI fell by 0.3% in July from a year ago, its first annual decline in more than two years, while the Producer Price Index (PPI) also extended its fall to 4.4%, as lacklustre demand weighed on the economy.
Platinum, which finds two-thirds of its demand from
industrial uses
, led by auto-catalysts, rose to $901 per ounce after breaching the psychological line of $900 earlier.
The price of palladium – of which Russia is the No.1 miner – also rose to $1269 per ounce from one-month lows.
European stocks were higher on Thursday as the pan-European Stoxx 600 index was up 0.5% by mid-afternoon and S&P 500 contracts advanced 0.6%, looking set to bounce back from another negative session on Wednesday.