Gold Price Shrugs Off Real-Rate and Fed 'Kryptonite' as Jobless Claims Rise
Thursday, 4/20/2023 15:22
GOLD PRICES rallied back above $2000 per ounce Thursday as worse-than-expected US jobless data saw the Dollar slip with both global stock markets and longer-term interest rates.
Benchmark yields on 10-year US Treasury bonds had earlier popped to 1-month highs above 3.64% per annum before dropping back 10 basis points after the
Department of Labor said
initial claims for jobless benefits rose last week back to mid-March's 14-month highs, while continuing claims rose to the
highest since November 2021
.
The yield on 10-year Treasury Inflation Protected Securities – the benchmark for so-called 'real rates' – had also risen earlier back towards 4-week highs near 1.30% per annum, the most strongly positive real rate in more than a decade when reached last September.
Gold prices then traded below $1650 per ounce having traded beneath $1380 at the previous touch in February 2011.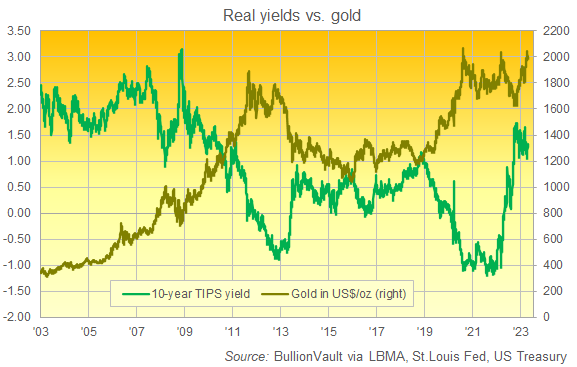 "The [short term] correlation between gold and real 10-year yields
remains reasonably strongly negative
," says John Reade, strategist at the mining industry's World Gold Council, "and well within the range seen over the past 6 years."
Put another way, "the relationship between gold and US real yields isn't [yet] broken."
With the US central bank currently targeting overnight interest rates
around 4.83% per annum
, betting that the Fed will raise its target by another 25 basis points at next month's meeting now outweighs bets backing 'no change' by 6-to-1, according to data from the CME derivatives exchange's
FedWatch tool
, up from 2-to-1 this time last week and below 1-to-1 at this point in March, when the mini-crisis in US banking saw Swiss giant Credit Suisse forced into a takeover by rivals UBS.
Betting on New Year 2024 meantime puts the consensus forecast at 4.66%, sharply above the 4.00% forecast for end-December shown by the FedWatch tool this time last month.
With UBS that day taking over Credit Suisse,
gold prices popped above $2000
for the first time since the financial-markets' shock at Russia invading Ukraine 12 months earlier.
Sanctions against Russia over its invasion of Ukraine may now move to
"a near-total embargo on exports"
by the US and its economic allies in the G7 group of nations, Bloomberg reports.
As gold prices reached $2010 on Thursday afternoon in London, silver also regained last weekend's closing level, trading back at $25.35 per ounce.
Palladium meantime rose back towards Tuesday's sudden 10-week highs at $1620 and the
price of platinum
extended its run to fresh 15-month highs, rising within 20 cents of $1100 per ounce.
Mining some 75% of new platinum supply and 40% of palladium each year, South Africa today saw government-owned energy monopoly Eskom confirm that
"load shedding" power cuts
will continue "indefinitely" ahead of the winter.