Gold Price Jumps on SIVB Crash, Breakeven Inflation Sinks Fastest Since Mar '20
Friday, 3/10/2023 15:31
GOLD PRICES extended their jump on Friday, turning this week's previous 1.8% loss into a 1.0% gain and touching the highest Dollar rate since Valentine's Day as solid US jobs data was wiped from financial news headlines by the failure of US finance group Silicon Valley Bank to stem a crash on the stock market.
Trading in the tech-sector lenders was halted as its stock sank by 60% for the 2nd day running ahead of the New York opening, spurring a sell-off in banking shares worldwide as
news reports
said an equity-raising had failed, leading SVB Financial (Nasdaq: SIVB) to seek a sale or merger.
Having rallied $20 as the story broke yesterday, gold priced in the Dollar added another $25 to trade at $1860 per ounce going into London's Friday afternoon benchmarking auction.
Betting that the Fed will hike by half-a-point at its March meeting in 2 weeks' time meanwhile sank from Thursday's peak of 3-in-4 to below 1-in-2, but that was still sharply above the 1-in-10 chance priced by the CME derivatives exchange's
FedWatch tool
this time last month.
Bond prices rallied sharply amid the SVIB shock, pushing 10-year US Treasury yields down to the lowest in 3 weeks at 3.81% per annum, more than a quarter-point below last week's spike above 4.0% – the first since November – with the sharpest retreat since New Year 2023 saw gold bullion prices surge towards 9-month highs.
Inflation-protected TIPS yields also sank as bond prices jumped, erasing this week's pop to 4-month highs and putting the gap with conventional 10-year yields – the so-called 'breakeven' inflation rate - at 2.24% per annum across the next decade.
Down by over a quarter-point from last Friday, that marked the steepest weekly drop in this crude bond-market forecast for US inflation since March 2020, back when the
Covid Crisis
crushed commodity prices and inflation forecasts around the world.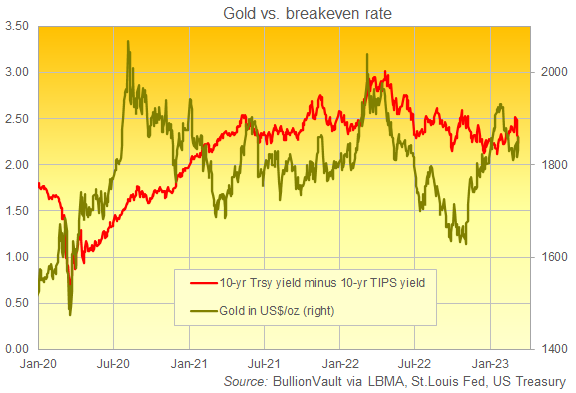 Data from the Bureau of Labor Statistics meanwhile said the number of workers added to non-farm US payrolls
jumped by 311,000
in February on the government's first estimate, more than 1/3rd below January's blow-out figure but 51% above consensus forecasts, which had predicted the smallest growth since December 2020.
Average earnings' growth accelerated but missed forecasts, while the average hours worked ticked lower and the unemployment rate jumped unexpectedly by 0.2 percentage points from January's 34-year low of 3.4% as more people began looking for work.
With gold prices nearing 4-week highs against a falling US Dollar, global stock markets overall hit the lowest in 2 months on the MSCI World Index as giant Chinese bank ICBC (SHA: 601398) finished the week 1.3% below Wednesday's 9-month high and Japan's Mitsubishi UFJ (TYO: 8306) lost 6.1% for the day to close at a 1-month low in Tokyo.
UK No.1 bank HSBC (LON: HSBA) then lost 5.0% by mid-afternoon in Europe, while Germany's Deutsche Bank (ETR: DBK) sank by 7.3% and France's BNP Paribas (EPA: BNP) lost 3.0%.
"Banking partner for half of US venture-backed tech and life sciences companies," says the
Financial Times
, "SVB has suffered from a slowdown in venture capital funding, as well as cash burn at many of its clients and losses on investments it made when rates were at rock-bottom levels."
Put another way, "Basically you've got a bank that was a big service provider to the sorts of companies that no one is funding any more and that have their own liquidity needs (which means pulling money from their banks). The jump in interest rates doesn't help with any of this," says Bloomberg
columnist
John Stepek.
"Banks are no longer the high leverage, risk taking institutions they were," says one
investment strategist
, "and what you see [in SVB's balancesheet] is *nothing like* the banks of the global financial crisis."
But fears of contagion come because lots of other finance firms "have big stockpiles of 'held to maturity' bonds that don't end up on their financial statements, but are
losing market value
and flag regulators' attention if sold in bulk," says Bloomberg columnist Lisa Abramowicz.
Yesterday's 60% plunge in SIVB saw shares in No.1 US bank J.P.Morgan (NYSE: JPM) lose 5.4%, Bank of America (NYSE: BAC) down 6.2%, Citigroup (NYSE: C) off 4.1% and the 4th largest bank Wells Fargo (NYSE: WFC) drop 6.2%.
Commodity prices also sank with equity markets, pulling copper back near 2-month lows and knocking 5% for the week off crude oil.
Silver prices
spiked, in contrast, halving the week's previous 6.1% plunge.