Gold Price 'Resilient' Above Financial Crisis High as US Government Shutdown Looms
Monday, 9/25/2023 14:13
GOLD PRICES steadied at last week's finish on Monday, down $160 per ounce from this May's new record but holding above 2011's then-all-time peak – top of gold's long financial crisis bull market – even as the sell-off in US Treasury debt took longer-term interest rates up to fresh 16-year highs ahead of next weekend's looming government shutdown in Washington, writes Atsuko Whitehouse at BullionVault.
With an agreement between hardline Republican and Democrat politicians looking very unlikely before midnight Saturday's deadline, federal workers will begin to be furloughed, bringing all but 'essential' government operations to a halt.
After hitting a 10-week winning streak, the Dollar index – a measure of the US currency's value versus its leading peers – climbed to year-to-date records after comments from two Federal Reserve
policymakers repeated
the US central bank's message that it will keep interest rates higher for longer to fight too-high inflation.
Ten-year US Treasury yields – a benchmark rate for government as well as many finance and commercial borrowing costs – also rose Monday, peaking at new 16-year highs above 4.50% as bond prices fell yet again.
"I'm surprised at how resilient gold has been," says Anthony Saglimbene, chief market strategist at $1.1 trillion advisory and asset manager Ameriprise Financial, pointing out that gold does not produce any income, while cash now pays the highest nominal rate in 2 decades.
Last week
the US national debt passed $33 trillion
, with key government services heading for another 'shut down' from next weekend as lawmakers look increasingly unlikely to strike a budget deal in the face of opposition from the hardline wing of the Republican party.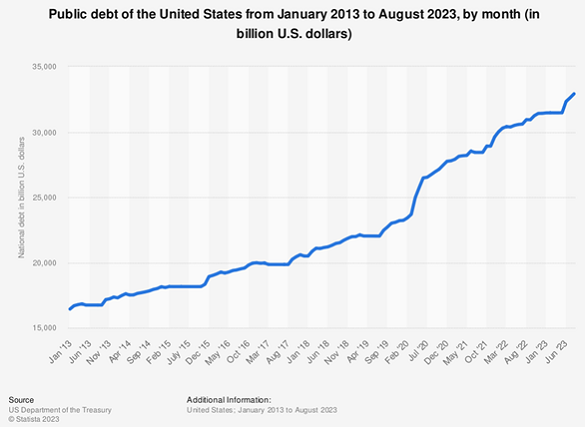 "If the departments of labor and education have to shut down for a few days as we get their appropriations in line, that's certainly not something that is optimal," said key Republican hold-out Matt Gaetz on Sunday.
The US government's $31.4 trillion
debt ceiling was suspended at the end of May
until 1 January 2025, after Republican and Democrat leaders agreed to avert what would have been the United States' first-ever default with just 2 days to spare.
The gross national debt has grown repeatedly since then, swelling by $1 trillion in the last three months alone.
"It is fair to say that the expansion of the US government's debt has made the market more aware of gold's role as a safe-haven asset," says Bruce Ikemizu, chief director of Japan Bullion Market Association in his latest comment.
Gold prices in US Dollar terms today held around $1924 per Troy ounce, while wholesale bullion in the spot market traded flat at £1573 for UK investors and edged 0.1% higher to €1809 for European investors.
Gold prices in China – the precious metal's No.1 consumer and central-bank buyer – meanwhile rose back to ¥474 per gram, close to mid-September's fresh record highs. That took the Shanghai premium over London quotes up to $97 per ounce, the highest since
Shanghai's all-time record gold premium
of $121, hit the day before the People's Bank finally relented on issuing new bullion import licenses.
Chinese equities today fell amid new concerns about the world No.2 economy's massive property market as embattled developer Evergrande said Sunday it is unable to issue new debt due to a legal investigation, and European share also declined, with the pan-European Stoxx 600 index sliding 0.8% amid news of
worsening German business sentiment
.
Oil prices rose, recovering some of last week's losses after the US Fed's 'hawkish' interest-rate forecasts, with Moscow issuing a temporary ban on gasoline and diesel exports to most countries last Thursday.
The price of silver
, primarily an industrial metal, held unchanged Monday around $23.50 per ounce after rising 2.3% last week.