Gold Hits 6-Month Lows as US Bond Yields Jump on Strong Data, Looming Shutdown
Thursday, 9/28/2023 14:14
PRICES to BUY GOLD extended yesterday's steep plunge on Thursday, trading at 6-month lows against a surging Dollar as strong US data sent longer-term interest rates up to fresh multi-year highs in the bond market ahead of this weekend's increasingly likely government shutdown in Washington.
Gold bullion for London delivery dropped to $1873 per Troy ounce, down 3.0% for the week so far, while silver traded 5.2% lower from last Friday at $22.50.
Crude oil pushed higher again towards $100 per barrel, but global stock markets fell for the 10th session running on the MSCI World Index, while European bond prices also fell, sending borrowing costs higher but still lagging US yields – now offering more than 4.60% per annum on Washington's 10-year debt, the highest since 2007, as the
'bear steepener' continues across the yield curve
.
With prices to buy
gold typically showing a strong inverse correlation
with that post-inflation return on 'risk-free' debt, "The model-implied gold price given current real 10-yr yields is $625/oz!" says a note from strategist Nicky Shiels at Swiss bullion refining and finance group MKS Pamp.
"Sure, gold should retain a premium vs rates, but this large?"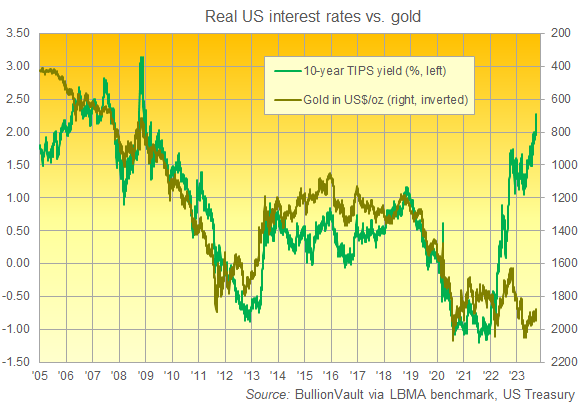 From September last year, the
real 10-year interest rate
has now risen 0.7 percentage points on its monthly average, the 4th steepest jump since the turn of the millennium according to the Cleveland Fed's historic data series.
Consumer-price inflation in Germany – where the
economy will shrink 0.6% in 2023
according to 5 separate institutions advising Berlin's government – has now sunk to 4.3% per year, preliminary data for September said today.
Initial claims for US jobless benefits continue to run near 5-decade lows.
The cost to buy wholesale gold with Euros today dropped through €1780 per Troy ounce for the 1st time since mid-September, when reports of gold No.1 consumer
China re-opening itself to new bullion imports
spurred a global price jump.
Shanghai's benchmark gold price today sank 3.5%in Yuan terms, down to ¥450 per gram and the cheapest since the start of July, as China's financial markets shut down for the week-long
mid-autumn festival and National Day holidays
.
With business activity now curtailed until the end of next week, that snapped Shanghai's run of record incentives to new gold imports from London – heart of the bullion market's trading and storage network – falling to $40 per Troy ounce from this month's average above $75.