Gold Price Tries $2000 Again, Nasdaq Leaps on US Jobs Miss as Hezbollah Denies Iran Is Leading Attacks on Israel
Friday, 11/03/2023 15:09
The GOLD PRICE briefly spiked above $2000 per Troy ounce in London trade Friday as the Dollar dropped on the currency market – as did longer-term US interest rates in the bond market – when weaker-than-expected US jobs data followed this week's "no change" decision on US interest rates from the Federal Reserve.
But the gold price for Euro and UK investors was little moved, and the bullion market then moved lower – cutting this week's gains in Dollar terms to just $10 per ounce at $1993 – after Iran-backed Lebanese political party and militant group Hezbollah denied that Hamas' 7th October atrocities across southern Israel were part of any co-ordinated attack against the Jewish state, easing immediate fears of a wider regional conflict even as Israeli forces encircled Gaza City amid
continuing international calls for a ceasefire
.
The US Nasdaq tech-stock index opened Friday's trading 6.4% above last week's 5-month low, while the rebounding price of US government bonds pushed the yield offered to new buyers of 10-year Treasurys down to 4.50% per annum.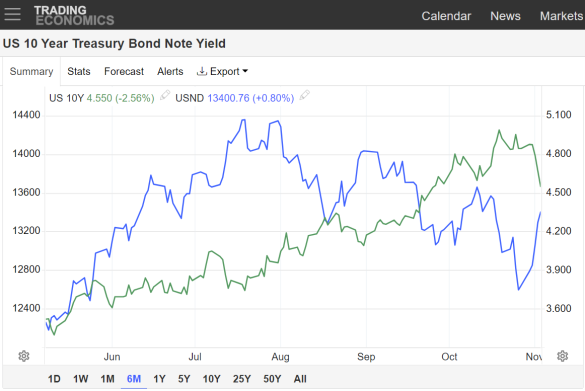 "Investors are noticeably welcoming the pause in US interest rate hikes, resulting in an optimistic mood on the [stock] market," says Belgian precious metals refining and technology business Umicore in an update.
"Powell has played the double-handed economist very well," says Swiss bullion refining and finance group MKS Pamp, "[as he] throws out a dovish comment tempered next by a hawkish one.
"But the overarching question is how can they keep having a hawkish pause when you pause for the 2nd time [and] 'higher for longer' is a communication tool that has diminishing effectiveness."
Following this week's "no change" decision on Dollar interest rates from the Fed, the Bureau of Labor Statistics' today said US non-farm payrolls expanded by 150,000 in October, missing consensus forecasts by nearly 1/5th with the
smallest growth since June's 30-month low
.
As factory employment declined
"due to strike activity"
, average weekly hours across the US economy fell, average earnings growth slowed, and the jobless rate rose to the highest since January 2022 at 3.9%.
Betting on the US central bank now raising the cost of borrowing in December sank to just 1-in-10 positions in CME Fed Fund futures, half yesterday's level, while global equities jumped again, extending Thursday's near-2% rise in the MSCI World Index.
Brent crude oil meanwhile fell almost $2 per barrel around the US jobs data and Hezbollah speech, heading for its 2nd weekly price drop in a row at $85.75 and cutting its rise since the eve of Hamas' attack to 3.1%.
Platinum today set its highest Friday fixing for 6 weeks in London's bullion market, trading at $935 per Troy ounce and rallying 9.0% from the 13-month low hit on Friday 6 October, eve of Hamas' terrorist atrocities in Israel.
Silver at $23.20 today traded 10.0% higher from 4 weeks ago, while palladium was 2.0% lower.
"The secrecy around preparations for [Hamas'] Al-Aqsa Storm [of 7th October] shows
it was an entirely Palestinian operation
and has no relationship whatsoever to any wider regional issues," said Hassan Nasrallah, secretary-general of militant 'state within a state'
Shiite group Hezbollah
in a televised speech.
Claiming that Hezbollah's current daily exchange of fire with Israeli forces along the Lebanese border is "unprecedented since 1948," Nasrallah asserted that "Iran does not exercise any guardianship at all over the resistance factions, and the real decision-makers are the leaders of the resistance."
Houthi rebels in Yemen this week fired cruise missiles and attack drones towards Israel, effectively "declaring war" on the Netanyahu Government in Jerusalem but in reality threatening their Iran-backed firepower
against the authorities in Saudi Arabia
, according to opinion from Al-Jazeera.