Gold Price Defies US Bond Yields' New 16-Year Highs Ahead of 'Hawkish' Fed
Wednesday, 9/20/2023 14:48
GOLD PRICES jumped into Wednesday afternoon's London benchmarking auction, reaching new 2-week highs for Dollar investors and setting fresh 3-month highs in Euro and British Pound terms after defying a rise to new multi-year highs in longer-term US interest rates ahead of today's Federal Reserve decision as demand in China – gold's No.1 household consumer and central-bank buyer – continued to buoy local prices above $2000 per Troy ounce.
Interest-rate traders meantime put a 99% certainty on the US central bank making no change to its current overnight borrowing costs today. But with new GDP, inflation and interest-rate forecasts also due from the policy-making FOMC on Wednesday, expectations for the first cut to Fed rates were pushed back again, with its May 2024 meeting now seen holding the effective Fed Funds rate at
this month's 22-year record average
of 5.33% per annum.
Consensus betting on June 2024 now predicts a rate of 5.24%, almost 10 basis points higher from the market's view this time last week and up from 4.98% a month ago according to data from the
CME derivative exchange's FedWatch tool
.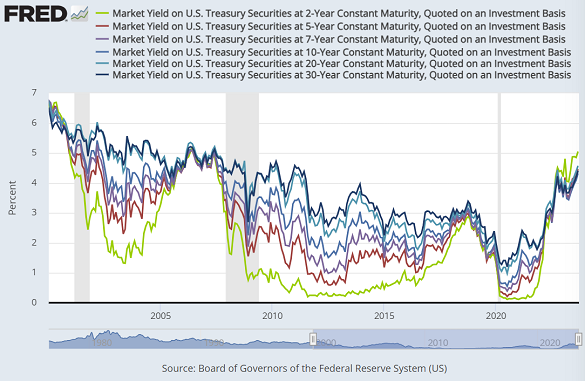 "Short of the Fed delivering beyond what is reasonably expected [ie, hiking rates], we think [further] upside to 2-year and 3-year Dollar rates may be limited."
Those shorter-dated US Treasury yields edged back Wednesday from last night's new decade-plus peaks, helping ease the US Dollar further back from last week's 6-month high against the rest of the world's major currencies on the FX market.
Gold in Dollar terms jumped back through $1940 per ounce, while the Euro price rebounded to €1812, also now higher for the week so far after yesterday's August cost-of-living data for the 20-nation currency zone showed the
weakest pace of inflation since January 2022
, eve of Russia invading Ukraine.
While Russia's President Putin today met Chinese foreign minister Wang Yi for talks in St Petersburg, Ukraine's European allies, plus Australia and Canada, asked the World Court to proceed with
Kyiv's case against Moscow
for abusing the United Nation's Genocide Convention as "a pretext" for its ongoing war.
Crude oil prices meantime slipped from their new 2023 highs ahead of the Fed, and UK inflation data also slowed more last month than analysts expected,
boosting calls for a pause
at the Bank of England in raising Sterling interest rates again at tomorrow's September meeting – still the consensus view in the market.
That saw
the UK gold price in Pounds per ounce
pop to a fresh 3-month high at £1565 as Sterling dipped on the FX market before it then rose to £1567 around the London PM bullion auction.
Silver meantime held firm and then rallied alongside gold, trading above $23.45 per Troy ounce.