2018: Dollar Down, Gold Up
Friday, 1/05/2018 20:13
But what about those Not Dollar gold investing...?
2018 BEGINS with smart people saying the year ahead looks good for gold investing, writes Adrian Ash at BullionVault.
So far the market agrees. The gold price in Dollars has just made its
strongest run of back-to-back daily gains
since February 2016, rising on 10 out of 11 trading days ending Wednesday. Gold has only done better 8 times in the last half-century.
But precious metals often "pop" with the New Year champagne corks.
Gold and silver rose in 11 of last 15 Januarys
for US Dollar investors. Platinum rose 14 times. Anyone investing in UK Pounds or Euros saw repeated New Year gains as well.
Why so strong in New Year? Why so soft versus the Dollar in December?
Well, the New Year's hangover seems to find investors fearing the future and mourning the past. That makes gold look more shiny in January than December.
Currency traders also say the major FX pairs tend to reach extremes around the turn of the year. Crunching the numbers in fact, Brent Donnelly and Tim Young at HSBC find the reality to be "insane...a massive anomaly in what should be close to randomly-distributed data."
Looking at the G7 currency pairs since 1980, the gob-smacked HSBC traders can only point to investors "window dressing, positioning for the new year, and reduced liquidity" for this bizarre bunching of annual highs and lows between the last week of December and the first week of January.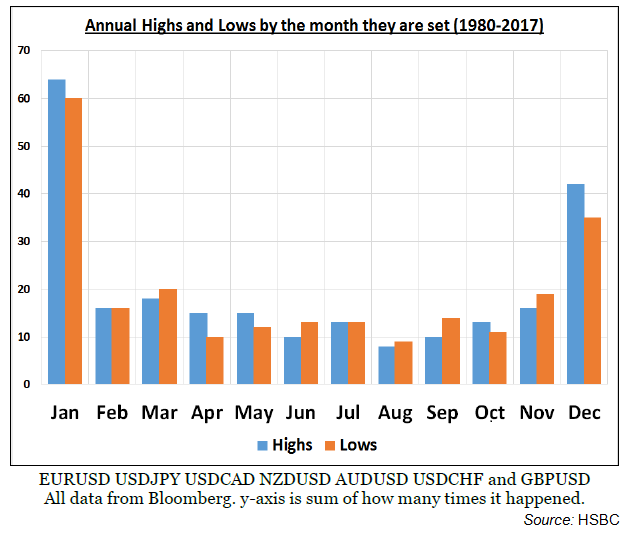 It's enough to make "even the most unrepentant ivory tower academic question the efficient market hypothesis," says Donnelly. Maybe the distribution of gold, silver and platinum's strongest monthly gains should do the same.
But whatever the main driver of precious metals' increasingly typical New Year bump, why do top bullion analysts now forecast solid prices for 2018 as a whole?
A possible stockmarket drop is one reason, a fair guess from these nose-bleed valuations. The risk of rising inflation makes another given near record-low jobless rates and resurgent government deficits.
But the point cropping up most in 2018 gold price forecasts to date is the weak outlook for the Dollar.
"If 2017 mark[ed] the end of a multi-year period of US Dollar strength," says former UBS, former Paulson & Co. and now World Gold Council strategist John Reade, "
gold could benefit
from that tailwind, unlike the headwind that it has experienced since 2011."
"The recent upside largely reflects a weaker Dollar," agree the team at independent analysts
Metals Focus
. "Looking ahead, we expect weakness of the US Dollar will persist, lending support to gold."
Strategist Jonathan Butler also sees "a relatively bearish picture for the US Dollar" in his 2018 outlook at Japanese conglomerate
Mitsubishi
. And again, a falling Dollar should prove "generally positive for USD-denominated commodities, especially gold as a currency in its own right."
This weak Dollar outlook of course stems from other forecasts and guesses in turn. They range from a weaker-than-expected bump from Trump's tax cuts, to disappointment with the Federal Reserve's pace of rate hikes, plus tighter interest-rate policy in the Eurozone (it could hardly get any looser).
But if a drop in the Dollar does help push gold higher, doesn't that mean non-Dollar gold investors could miss out?
History says maybe. But it's unlikely.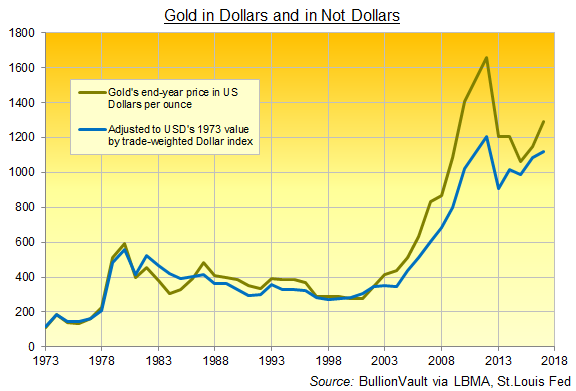 This chart adjusts the Dollar gold price by the Dollar's
trade-weighted index
against the rest of the world's major currencies.
So it shows, in blue, how the
gold price
has performed in everything other than the greenback. Put another way, it shows gold priced in terms of Not Dollars.
Now, the Dollar's currency strength has of course been reflected in the Dollar gold price. When the Dollar Index has fallen 10% or more, gold has always risen for US investors (four times in the last 44 years, averaging +17.3%). When the Dollar Index has risen by 10% or more, gold has tended to sink in Dollar terms (flat once and down four times, averaging -17.1%). And overall, the Dollar Index has tended to reflect moves in Dollar gold prices on an annual basis. They have moved in opposite direction in 28 of the 44 years ending 2017, some 63% of the time.
Fact is, however, Not Dollar gold didn't blink. It went in the same direction as gold priced in Dollars far more often, moving higher or lower together in 38 of the last 44 years – that's over 86% of the time. And for Not Dollar investors, the 6 years when gold diverged from its Dollar price (because the metal moved less opposite than the greenback rose or fell) show no clear pattern (3 up, 3 down; only one double-digit move in the Dollar Index; average Not Dollar annual change of -1.0%).
So, movements in the US currency have in the main only tempered or extended the size of gold's changes for Not Dollar investors. They have rarely negated its direction.
A weak or strong Dollar, in short, has tended to see gold rise or fall for US and non-US investors alike. And for 2018, expert consensus says the Dollar is likely to drop.