Breakeven Inflation Jumps, Buoys Gold Prices Ahead of Powell and Jobs Data
Monday, 3/06/2023 14:35
GOLD PRICES eased a little on Monday after recording the first weekly gain in 6 as rising 'breakeven' inflation expectations pushed down the real rate of interest in the bond market and traders awaited Federal Reserve chair Jerome Powell's testimony to Congress, plus the latest US jobs report, writes Atsuko Whitehouse at BullionVault.
Spot gold prices edged 0.3% lower to $1851 per ounce after posting their 1st weekly gain since end-January on the internationally-recognized
London daily gold price benchmark
.
The Dollar index – a measure of the US currency's value versus its major peers – edged 0.1% higher after the greenback also snapped a 6-week pattern, dropping last week from its highest since New Year.
"Gold rallied strongly last week after the market started pricing in higher long-term inflation, thereby challenging the [Fed]'s own targets," says the latest note from derivatives platform Saxo Bank's strategy team.
The so-called 'breakeven' rate of US inflation across the next decade implied by bond-market pricing rose on Friday to its highest in 4 months at 2.52% per annum, jumping by 16 basis points from the start of last week and now edging back to 2.48% on Monday.
Gold prices showed strong co-movement with that breakeven rate starting in 2021, peaking near the all-time Dollar high of $2075 per ounce when 10-year implied inflation set a series record above 3.0% per annum on news of Russia invading Ukraine last spring.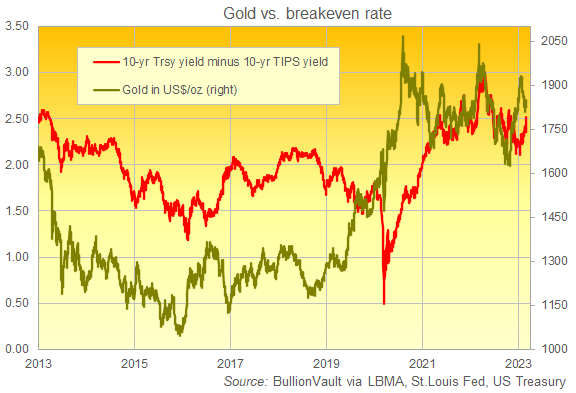 "While support was provided by US 10-year yields dropping back," Saxo's note continues, pointing to the
typically strong inverse correlation of gold prices
with the so-called 'real interest rate' on inflation-protected Treasury bonds, "it was developments in breakeven [inflation] – up on the week and real yields down – that helped support gold's recovery."
Realized inflation on the Fed's preferred measure of core PCE has fallen from its mid-2022 highs of around 5.2%, coming in at 4.7% in January but
rising from December's pace
.
If inflation and jobs market data continue to come in hotter than expected, interest rates
will need to go and then stay higher
, said San Francisco Fed President Mary Daly on Saturday.
This Friday will bring the February
non-farm payrolls report
from the Bureau of Labor Statistics, with the private-sector ADP report on Wednesday.
Fed chair Powell will meantime begin semi-annual testimony to Congress about monetary policy on Tuesday, before the blackout period for public comments ahead of the policy decision due on 22 March begins this weekend.
The largest single probability for March's Fed meeting is still another small 25 basis points rate hike, according to betting tracked by
the CME's FedWatch tool
. But nearly 30% of such forecasts now see a 50 basis points hike, up from just 3% a month ago.
"It is
very likely that we will raise
interest rates by 50 basis points," said European Central Bank president Christine Lagarde to Spanish newspaper
El Correo
on Saturday when asked what would happen at the 19-nation monetary union's policy meeting next week.
Headline inflation in the Eurozone slowed less than expected to 8.5% in the year to February and the core measure – excluding fuel and food – hit a new series record of 5.6%, according to
data published by Eurostat
last Thursday.
Gold priced in Euros today slipped 0.4% to €1739 per ounce as the single currency strengthened against the Dollar in the FX market, while
the UK gold price in Pounds per ounce
held unchanged from 3-week high at £1541.
The price of silver
, which finds nearly 60% of its annual demand from industrial uses, went down 0.7% to $21.13 per ounce Monday morning.
Platinum, which finds two-thirds of its demand from industrial uses led by auto-catalysts, meanwhile fell 1.4% to $969 per ounce, and palladium – well over 4/5ths of which goes into auto-catalysts to cut carbon emissions from gasoline engines – dropped by 2.5% to $1420 per ounce.