China Gold Price Hits New High as Beijing Launches Consumer Stimulus
Wednesday, 7/19/2023 15:25
The GOLD PRICE in China, the precious metal's No.1 mining, consumer and central-bank buying nation, set a new all-time high on Wednesday as the Yuan weakened on the currency market amid expectations of fresh economic stimulus by the Beijing authorities.
Gold prices for UK investors
also jumped Wednesday, rebounding from last weekend's new 2023 lows to hit 5-week highs above £1530 per Troy ounce as the UK became the latest major economy to report a steeper than expected decline in the pace of inflation, denting the outlook for further hikes to central-bank interest rates.
Silver prices meanwhile rose to fresh 10-week highs in US Dollar terms above $25 per Troy ounce, gaining for the 11th out of 13 trading sessions so far in July.
Bond prices rose, edging longer-term borrowing costs lower, and developed-economy stock markets extended their gains to 15-month highs, taking the MSCI World Index over 31% higher from last October's 2-year low, when
the gold price also hit multi-month lows
.
With inflation sinking to 0% in China last month as the world's 2nd largest economy sees a slowdown in GDP growth, "We will promptly formulate and introduce
policies to restore and expand
consumption," said Beijing official Jin Xiandong of the National Development and Reform Commission yesterday after state-affiliated think-tank the Chinese Academy of Social Sciences last week
called for stimulus spending
to drive a 4% government budget deficit.
Yuan gold prices today fixed at ¥461 per gram at the Shanghai Gold Exchange, topping May's peak by more than ¥4 but trimming the premium offered over and above London quotes to $11 per Troy ounce.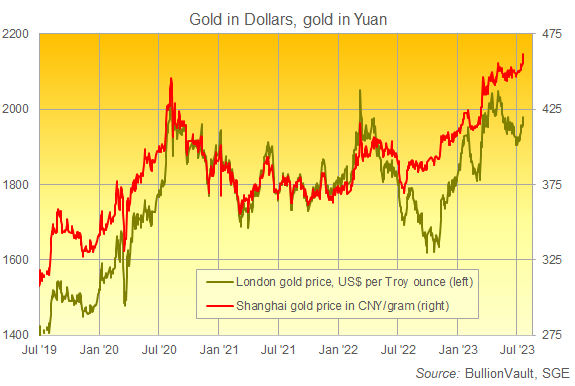 "Effective policy measures will be implemented as soon as possible to stabilize large-scale consumption and infrastructure construction," Jin continued Tuesday, swiftly followed by an 11-point plan from the Commerce Ministry including
subsidies for trading in old goods
and buying 'greener' home appliances.
The gold price in US Dollar terms today held close to Tuesday's sudden 7-week high at $1980, while the Euro price held above €1760 for the 2nd session running.
That was a 3-month low in the Euro gold price when first reached at this point in June.
Still well above the historically typical average of $8 incentive for new bullion shipments into China, the declining Shanghai premium suggests weaker consumer demand for the precious metal, masked by
the People's Bank of China limiting gold import quotas
and thereby keeping domestic supplies tight.
With Beijing now the heaviest buyer of central-bank gold over the last 3 years ahead of India, Singapore and Thailand, the Communist politburo's pledge "to reinvigorate economic growth"
helped buoy crude oil
prices Wednesday, Reuters reports, as did expectations that the US Federal Reserve will stop raising interest rates sooner than later following last week's news of
softer-than-predicted US inflation
.
Canada yesterday reported a half-point monthly slowdown in its pace of core inflation to 3.2% per year in June – the slowest in 2 years – with gold priced in the Loonie rising back above C$2,600 per ounce overnight.
Consumer-price inflation also slowed beneath analyst forecasts in former gold-mining No.1 South Africa in June,
new data said today
, dropping back into the Reserve Bank's target range of 3-6% per year for the first time since April 2022.
That news edged the Rand lower on the currency market, edging gold prices up to ZAR 35,000 per Troy ounce, a record high when first reached in summer 2020's first wave Covid bull market but more than 10% off this March's new all-time record.
Most analysts already expect the SARB to keep South Africa's key interest rate on hold at tomorrow's monetary policy meeting after raising 10 times in a row to 8.25% per annum – action that has
spurred opposition from some members
of the governing ANC party.
South Africa's President Cyril Ramaphosa will now be joined at next month's summit of the BRICS nations in Johannesburg by Russia's foreign minister Sergei Lavrov rather than President Vladimir Putin summit, his office said today – a "mutual agreement" after Moscow made it "clear...that arresting its sitting President" under the war crimes warrant issued by the International Criminal Court "would be
a declaration of war
."
With energy prices falling again from last year's war-driven spikes, the cost of living in the UK, the world's 6th largest economy, rose 7.9% in June from 12 months before, the slowest headline rise in
the Consumer Price Index
since oil and gas leapt on Russia's invasion of Ukraine in March 2022.
But underlying UK inflation on the 'core' CPI measure – excluding fuel, food and other 'volatile' costs – slowed only 0.2 points to 6.9% per year, a 3-decade record outside of May's peak.
New data from the USA today said that the number of new housing starts and building permits both fell harder than analysts had forecast in June in the world's largest economy.
The Federal Reserve meets next week to decide the summer's interest-rate policy, with
traders in CME derivatives
putting a 99.8% chance on another rise.