Gold Prices Split by FX Action as Tokyo and Beijing Talk Up the Yen and Yuan
Monday, 9/11/2023 15:11
GOLD PRICES rose against a falling US Dollar on Monday as the Japanese Yen surged and the Chinese Yuan rebounded from 16-year lows after the central banks in Tokyo and Beijing both spoke to defend their currencies on the FX market amid fears of inflation and instability, writes Atsuko Whitehouse at BullionVault.
Gold prices in the US Dollar jumped 0.6% to $1930 per Troy ounce, reversing half of last week's $20 drop from 1-month highs.
But gold held almost unchanged in British Pounds or Euros as the Dollar index – a measure of the greenback's value versus its major peers – fell by the same percentage, the most since the end of August following the central-bank comments from Japan and China.
Consumer prices in China, the world's 2nd largest economy, edged out of deflation last month, rising 0.1% per year.
But with consumer-price inflation in Japan – the world's 3rd largest national economy – already running above the Tokyo central bank's 2% target for the 16th month running in July, the Yen lost 2.3% against the Dollar in August and another 1.6% last week.
"There are various options we can take [if] we see sustained rises in inflation accompanied by wage growth," said Kazuo Ueda, governor of the Bank of Japan – which has now kept its overnight interest rate
below zero since New Year 2016
but which
loosened its 'yield curve control'
of longer-term bond rates when Ueda took the helm at the end of July – in an interview published Saturday by the
Yomiuri newspaper
.
Japan's consumer price inflation of 3.3% year to year in July meant that real wages lost value for the 16th month in a row, according to government data released Friday.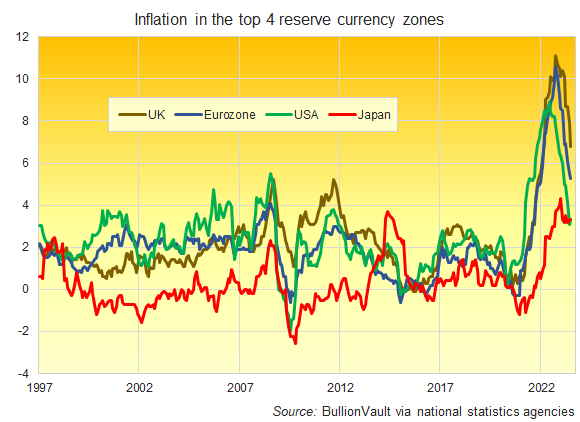 Ten-year Japanese government bond yields surged at Monday's opening following Ueda's hints of monetary tightening, reaching 0.705% per annum – the highest since 2013 – while the JPY rose as much as 1% versus the Dollar.
That pushed gold prices in JPY down as much as 1.2% in early trading after the precious metal set
a run of new all-time Yen gold highs
over recent weeks, peaking at ¥9165 per gram in spot-market trade last Tuesday.
Gold prices on the Shanghai Gold Exchange in contrast rose to set
yet another new all-time high
of ¥467.92 per gram before the Yuan rebounded from a 16-year low after the People's Bank of China raised its daily 'fixing' level for the currency's FX rate and warned speculators not to bet against the CNY.
"They should resolutely avoid behaviours that disturb market orders such as conducting speculative trades."
"The weakening Yen was likely on Ueda's mind," says Hideo Kumano, executive economist at Dai-Ichi Life Research Institute and a former BOJ official, adding that comments helping prop up the currency will likely be very welcome to the Government in Tokyo, after the Yen last week fell within ¥3 of the 3-decade low at ¥150 per Dollar which saw the Treasury intervene in the currency markets,
buying the currency
to defend it, last fall.
The onshore Yuan meanwhile jumped about 1% against the Dollar today, the sharpest 1-day rise since March, to trade at better than ¥7.30 per Dollar – a 15-year low when first reached in late 2022.
Wholesale bullion in China, the metal's No.1 consumer market, continued to show a historic premium to London quotes, offering an incentive to new imports of $70 per Troy ounce – the highest ever
since Shanghai launched its daily price benchmarking
in spring 2016, and more than 7 times the typical level.
But while the PBOC itself has increased its gold holdings this year, reaching a new record of 2,165 tonnes on its official data by adding another 29 tonnes in August with the 10th consecutive month of gold buying, the People's Bank has also
reduced the number of gold import licenses
issued to local banks, a move aimed at stemming foreign currency outflows and first identified by BullionVault in July as the Yuan worsened its drop on the FX markets.
Gold priced in Euros meantime edged higher by 0.2% to €1796 per ounce ahead of the 20-nation European Central Bank's policy vote on Thursday, while
the UK gold price in Pounds per ounce
edged lower around £1538 as Sterling steadied above 3-month lows hit when Bank of England governor Andrew Bailey told lawmakers that
the central bank is "nearer"
to ending its run of rate increases.
"I am
feeling very good
about that prediction," said US Treasury Secretary and former Federal Reserve chief Janet Yellen meantime on Sunday when asked about her previous hopes that the US would avoid a recession while still cutting the pace of consumer-price inflation.
"I think you'd have to say we're on a path that looks exactly like that," Yellen added, ahead of US consumer price index data being released this Wednesday.