Social Security In The Crosshairs?
Thursday, 3/23/2023 09:01
Only 15% of Americans contribute to an IRA...
FRENCH President Emmanuel Macron took a bold step last Friday by raising the legal retirement age in his country from 62 to 64, bypassing parliament and potentially setting his government up for a vote of no confidence, writes Frank Holmes at US Global Investors.
The unpopular pension reform, Macron says, is necessary to address the financial deficits caused by pandemic spending and the European energy crisis.
With the US watching closely, could France's pension reform serve as a blueprint for future changes to Social Security?
I don't envy Macron for making this tough call. The people of France enjoy one of the most generous pension systems in the European Union (EU). According to 2020 data, France spent a jaw-dropping 14.7% of its GDP on pensions alone.
However, the sustainability of this pension system is being threatened by demographic changes. The Western European country has one of the highest life expectancies in the world, and the expected years in retirement have increased considerably.
French men were expected to spend 23.5 years in retirement on average, second only to men in Luxembourg, according to the Organization for Economic Cooperation and Development (OECD). For women, that number rose to 27.1 years.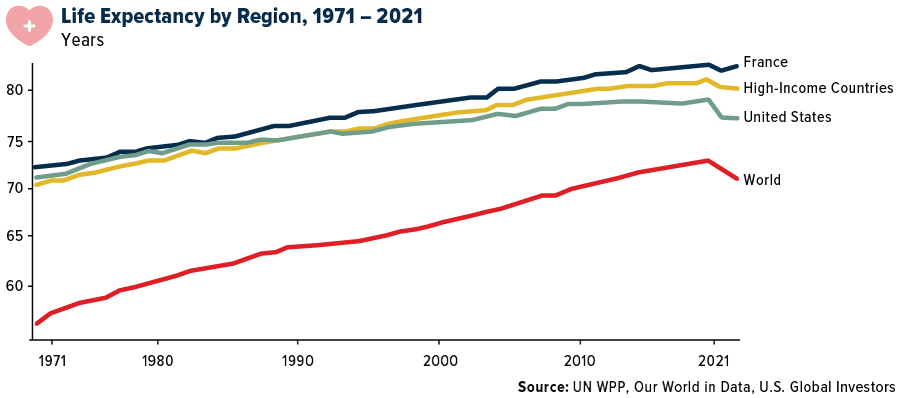 Like other high-income countries, particularly those in Europe, France's birth rate has steadily dropped over the years, guaranteeing there will be fewer workers to support a rapidly aging population. In 2021, there were 10.5 births in France per 1,000 people, down from 13.2 births 30 years earlier.
No doubt US lawmakers are keeping a close eye on the political fallout from France's retirement reform. If the widespread strikes and marches are any indication, the future of Macron's government appears to be in jeopardy.
The truth is that the US may be facing a similar reckoning, and investors and savers need to be prepared. Sixty-six million Americans currently receive monthly benefits from Social Security, which, if nothing changes, is expected to be insolvent by 2035 at the latest.
Take a look below at the Congressional Budget Office's (CBO) projections of mandatory entitlement spending. By 2032, Social Security will represent nearly 6% of US GDP, up from around 5% today. Major health care programs, including Medicare and Medicaid, will account for an even greater chunk of the economy as older Americans continue to make up a larger share of the total population.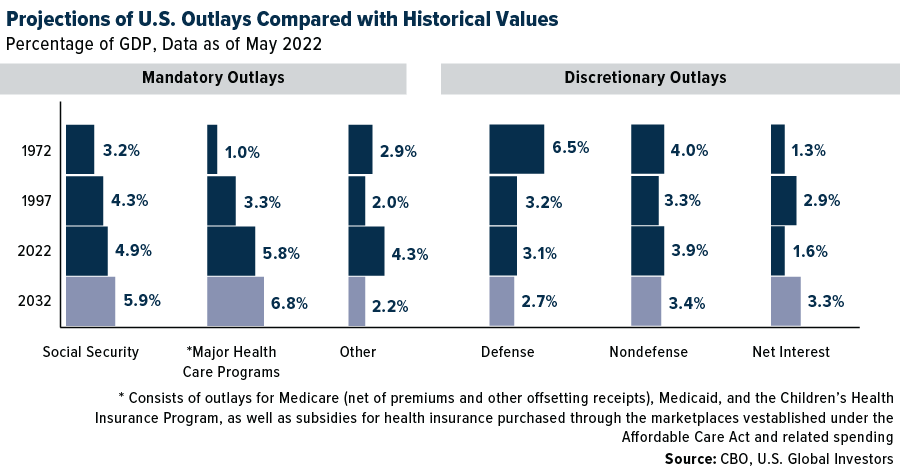 The more reasonable changes under consideration are raising the retirement age, possibly to as high as 70, and increasing the amount of annual wages subject to the Social Security payroll tax.
Other options include privatization, which, of course, carries investment risk. In 2022, corporate retirement plans in the US recorded a loss of 19%, underperforming public plans, which fell 17%, according to Pension & Investments. A year earlier, public plans returned 18%, two and a half times more than corporate plans did.
The big takeaway here is that I don't believe it's wise or prudent to assume that Social Security, in its present form, will be there for you when you retire. It's time for Americans to take a greater role in their own retirement planning.
That may prove to be more challenging than expected. I was surprised to learn that very few American households contribute to a traditional or Roth IRA.
According to findings by the Investment Company Institute (ICI), a dismal 15% participated in 2022, marking the highest annual rate in 15 years' worth of data. Twenty-six percent of households owned an IRA but didn't contribute. Alarmingly, 59% of households don't own an IRA at all.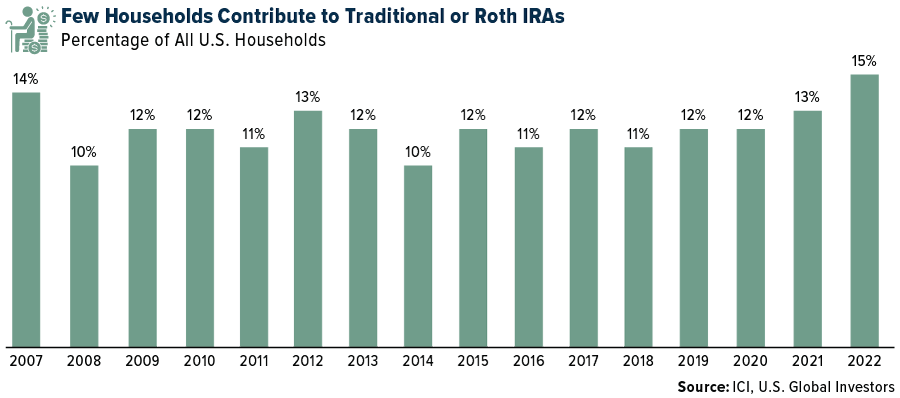 By taking a more hands-on approach to retirement planning, Americans can better prepare themselves for a financially secure future, reducing their dependence on Social Security and avoiding potential risks associated with changes to the system.