Platinum Investment to Support $1000 Price on 'Record Deficit'
Tuesday, 5/16/2023 12:44
28% drop forecast for palladium on autocat substitution...
PLATINUM INVESTMENT and further substitution in autocats is set to support the white precious metal at an annual average price above $1000 per ounce in 2023 according to leading analysts, but sister-metal palladium will drop to its lowest price in 5 years.
Specialist consultants Metals Focus see platinum demand outstripping supply by the widest margin on their data series, with the market deficit equalling 11.7% of total demand.
That will help reduce the global stockpiles built up as the platinum price fell hard with sales of diesel-engine vehicles – in which the precious metal still finds its single largest source of demand, needed in autocatalyts to reduce harmful emissions – following
the 'diesel scandal'
starting at German giant VW in 2015.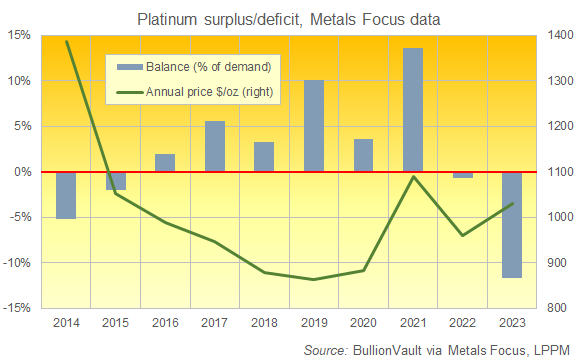 "A number of market developments during the first quarter of 2023...had a significant impact on market balances," says mining-industry group the World Platinum Investment Council, also releasing its latest report Monday for the start of Platinum Week in London and pointing to "significantly curtailed" mine output from No.1 producer South Africa due to its
worsening electricity load-shedding
.
Recycling supply "also struggled" says the Council's new
Platinum Quarterly
"due to an ongoing shortage of automotive scrap availability" driven by the rising cost of living and high second-hand car prices.
Platinum demand meantime "remained robust" says WPIC, jumping by more than 1/4 year-on-year across January to March led by automotive demand while industrial demand also rose and
platinum investment
flipped positive thanks to strong inflows to South African-listed exchange-traded funds and growth in bar and coin buying by Japanese households.
Net flows to South African platinum ETFs have now been positive "every month this year so far" says German refining group Heraeus, "as South African investors are more acutely aware of the electricity supply issues being faced by PGM producers."
Demand for palladium will meantime slip 0.9% on
Metals Focus
' new 2023 forecast, released Monday to mark the start of Platinum Week in London, dropping to the lowest outside 2020's Covid Crash since at least 2013.
Falling supply will however see palladium's market deficit rise by more than 1/4 to the deepest since 2018, equal to 8.0% of forecast demand. But that outlook doesn't stop the palladium price falling 28.0% on Metals Focus' new forecast in its PGM Focus 2023, dropping on an annual average basis to $1520 per ounce, the cheapest in 5 years.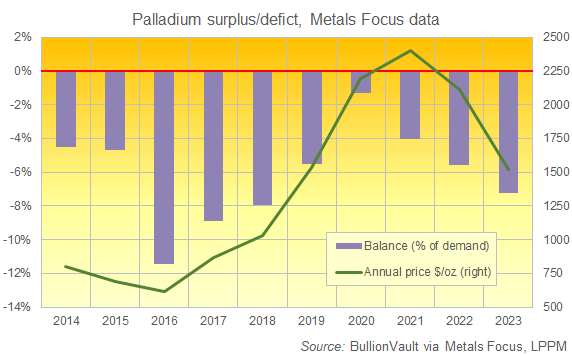 Last spring's
invasion of Ukraine by Russia
– source of over 2/5ths of newly mined palladium worldwide – saw the metal surge alongside gold to hit new all-time records before falling hard across 2022 as those high prices encouraged more gasoline vehicle manufacturers to substitute cheaper platinum in their autocat systems.
Overall, says refining and technology specialist Johnson Matthey, automotive consumption of all platinum-group metals rose by 4% in 2023, but with "platinum taking all of the growth".
JM's new
PGM Market Report
, also released for the start of Platinum Week, sees platinum moving from surplus to only "a small deficit" in 2023 equal to 1.7% of total demand, driven by "greater adoption of tri-metal catalysts on gasoline vehicles and robust industrial demand.
"However," say JM's market research team, "the direction of the platinum market balance remains dependent upon investment. Our forecast reflects a return to buying in Japan and South Africa during the first quarter of 2023, but investor interest may prove difficult to sustain in a higher interest rate environment."