Platinum 2023 Deficit vs. Price
Wednesday, 6/28/2023 09:01
Platinum price has responded to big deficits in the past...
ESTIMATES of platinum above-ground stocks appear sufficient to balance forecast market deficits, but the portion available at current price levels is key, says the World Platinum Investment Council.
Our latest supply and demand data forecasts a record platinum market deficit of almost one million ounces in 2023. The deficit is a result of strong 28 per cent year-on-year growth in demand, in combination with a constrained outlook for supply, down one per cent year-on-year.
Moreover, looking out to 2027, WPIC predicts consecutive and deepening annual deficits supported by continued demand growth, in particular automotive demand. Given there is limited scope for mine or recycling supplies to increase to cover these shortfalls, they will have to be met from Above Ground Stocks.
WPIC defines Above Ground Stocks as the year-end estimate of cumulative platinum holdings not associated with physical platinum held by exchanges, exchange traded funds or working inventories of mining producers, refiners, fabricators or end-users.
This definition is intended to specifically isolate the unpublished vaulted platinum holdings from which a supply-demand deficit can be readily supplied, or to which a supply-demand surplus can readily flow. The flow of this metal is how the market clears or balances at spot metal prices.
As at the end of 2022, platinum Above Ground Stocks were estimated to be almost five million ounces – at first glance more than enough to cover this year's shortfall and those out to 2027. However, this level only equates to 39 weeks of annual demand and is expected to fall steeply over the next few years, absent any material changes to supply-demand fundamentals. In addition, significant platinum imports into China in recent years have resulted in around 80 per cent of the estimated Above Ground Stocks being owned there, effectively unavailable to the rest of the world due to export controls. Consequently, WPIC estimates that Above Ground Stocks available in the rest of the world will be at a level commensurate with only six weeks of demand by the end of 2023.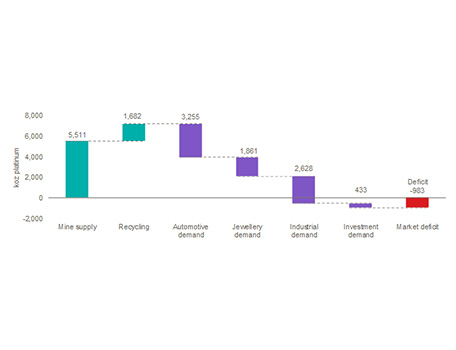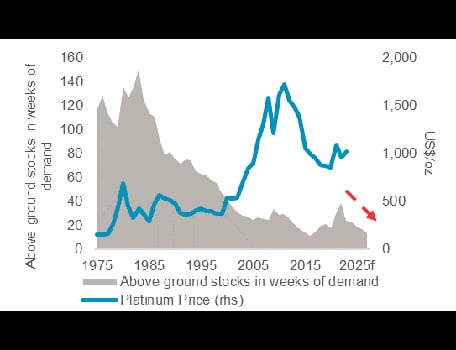 Typically, when Above Ground Stocks either become depleted or are not 'for sale' by owners at the prevailing price level in the spot market, and are hence unavailable to balance market deficits, the commodity price would be expected to increase to a point sufficient to either attract new supply into the market, or to cause a decline in platinum demand.
In the case of platinum, the likelihood of a supply response to higher prices is extremely low. South African mine supply is subject to long lead-times for new production and is currently facing operational challenges due to electricity shortages. In addition, supply from Russia, unlikely to respond to higher prices because it is produced as a by-product of nickel mining, has downside risk due to mine equipment and technology-related sanctions resulting from Russia's invasion of Ukraine.
Furthermore, as platinum is mined from polymetallic deposits containing other platinum group metals and base metals, there is a limited ability to flex production based upon the pricing of any one individual commodity.
The platinum price has responded positively to meaningful deficits in the past. It will be interesting to observe its response to ongoing market tightness as the current scenario unfolds, especially should security-of-supply concerns materialise, prompting end-users to add to buffer inventories, further adding to the platinum shortage.