Gold Price Enters 2023 with 3rd Record Year in a Row
Friday, 12/30/2022 15:39
GOLD BULLION ended 2023 with a final London benchmark price around $1814 per ounce, down just 0.3% from last New Year's Eve despite the US Dollar enjoying its strongest year-on-year jump versus the world's other currencies since 2015 on the back of the steepest rise to US interest rates since 1980.
Faced with the worst consumer-price inflation in 4 decades, the Federal Reserve this year hiked its overnight interest rate to 4.5%, the highest since before the global financial crisis began in 2007.
Now rising by 8.1% since last New Year's Eve, the Dollar Index had earlier seen an 18.9% surge to late-September's 2-decade peaks.
But with the Russian invasion of Ukraine and a steep drop in both bond and stock-market prices worldwide, the average gold price across 2022 came in at $1800 per ounce – the 3rd annual record in a row, albeit just $1.40 above last year's level – with non-Dollar investors seeing a year of very strong gains.
Like gold bullion, silver prices also rose on the last trading day of 2022, holding at $23.93 per ounce around midday Friday's final London benchmark of the year and gaining 3.7% from last New Year's Eve.
Silver's annual average however fell 13.5% in Dollar terms, losing $3.40 from last year's near decade peak of $25.13.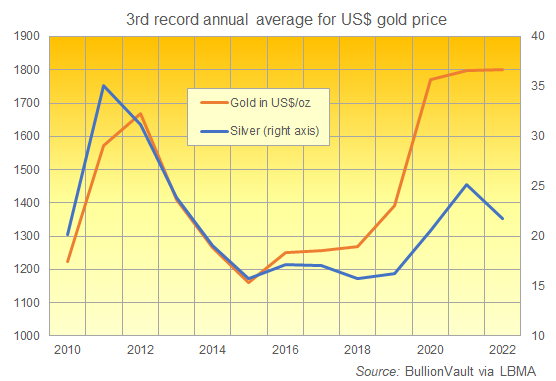 Gold's strong performance in 2022 came despite net outflows of investment cash from all major bullion-backed ETF trust funds, with the giant GLD shrinking by 5.9% and the IAU – the No.2
gold ETF
– shrinking by 8.9%.
Silver ETF the SLV from iShares shrank faster, seeing net outflows of 12.2% across the year.
Consumer demand in contrast returned, with prices in China – gold bullion's No.1 private buyer – averaging an $11 premium per ounce to London quotes, more than double last year's average incentive for new imports.
Unchanged in 2022 on a year-end basis in US Dollar terms, the gold price rose 5.8% in Euros and 11.8% in UK Pound terms, setting a new all-time high against the 19-nation single currency at €1902 as
Russia invaded Ukraine
last winter and re-touching its 2020 Covid Crisis peak in Sterling of £1580 both in March and again on the Conservative Government's
disastrous 'mini budget'
in September.
Global stock markets meantime saw their worst year since 2008 with the MSCI World Index losing 19.7% in US Dollar terms.
This year's slump in bond prices meantime drove the yield offered to new buyers of 10-year US Treasury debt – a benchmark for both government and private-sector borrowing costs – more than 2.3 percentage points higher from last New Year's Eve.
While 10-year yields today traded at 3.85% per annum, down 0.4 points from late-October's 14-year high, that still marks the
steepest ever annual jump
according to data from the St.Louis Fed.
Inflation-protected Treasury yields have also jumped at a record pace in 2022, with the 'real rate' offered by 10-year TIPS rising to 1.56% per annum, down 1/5th of a point from early November's touch of mid-2009 levels.
Typically showing a strongly inverse 52-week correlation with 10-year TIPS yields of minus 0.65 since those bonds were launched in January 2003, gold this year switched to showing virtually no impact from real rates, with a median 52-week correlation in 2022 of just minus 0.08 and a spike in April to the strongest co-movement since 2006 at 0.59.
Those figures would read minus 1.00 if gold and 10-year TIPS yields moved exactly opposite, or 1.00 if they moved exactly in lockstep.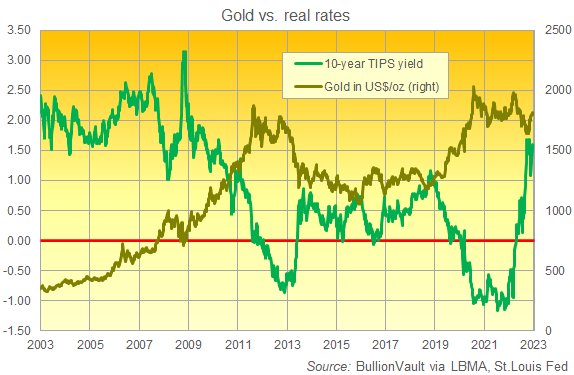 Consumer prices in the USA rose 7.1% across the 12 months ending November, slowing by almost 2 percentage points from June's 4-decade peak but matching exactly 2021's end-year inflation rate, itself the strongest increase since 1981.
2021 saw inflation on the CPI measure accelerate by 5.8 percentage points, the steepest rise since 1950, as crude oil prices soared by more than one half.
While crude oil and natural gas prices have retreated hard from 2022's spike on news of major producer Russia invading Ukraine and being hit by economic and financial sanctions, new oil and gas discoveries worldwide
fell this year to their lowest since 1946
according to Norwegian consultancy Rystad Energy, thanks to a prolonged lack of investment in exploration.