Geopolitics 'Adds Bid' to Gold Price But -10% from Russian Invasion of Ukraine
Monday, 2/20/2023 14:05
GOLD PRICES traded in a tight range on Monday ahead of this week's release of meeting minutes from the US Fed's latest interest-rate rise as President Joe Biden made a surprise visit to Kyiv – and his White House accused China of supplying arms to Russia – before the 1st anniversary of Vladimir Putin's invasion of Ukraine, writes Atsuko Whitehouse at BullionVault.
Spot gold prices edged higher to $1843 per ounce after recording a 3rd weekly decline and spiking down to touch the lowest in 1.5 months on Friday at $1819.
Attending the Munich Security Conference yesterday to discuss the Russia-Ukraine crisis, US secretary of state Antony Blinken said any material support from Beijing for Russia's military would have
"serious consequences"
and also demanded China stop flying 'spy' balloons over the US, a claim refuted by China's top foreign policy official Wang Yi.
"An uptick in geopolitical tensions [is] potentially adding a small bid into a market that otherwise seems preoccupied with the scope for further interest-rate hikes from the Federal Reserve," says derivatives platform Saxo Bank's Strategy Team.
"I thought it was critical that there
not be any doubt, none whatsoever
, about US support for Ukraine in the war," Biden said this morning, explaining his visit in joint remarks with Ukrainian counterpart Volodymyr Zelenskyy.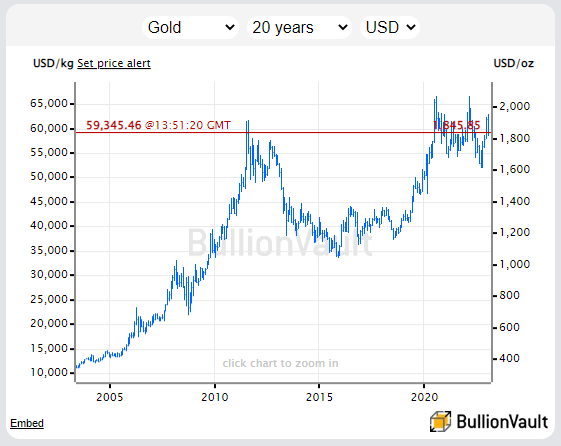 Gold prices last March
spiked within $6
of summer 2020's all-time Dollar-price record at $2075 as the price of industrial and energy commodities supplied by Russia leapt as the US, UK and European Union moved to ban its exports in retaliation for President Putin's invasion of Ukraine.
Russia is the 2nd largest gold mining nation after China, accounting for 1-ounce-in-every-12 mined worldwide last year despite its output falling 8% in 2022,
according to
the mining industry's World Gold Council.
The
price of palladium
– of which Russia is the No.1 miner, accounting for 40% of the global production – meantime held around $1507 today, down 56% since its all-time high of last March at $3444 per ounce.
Sister metal platinum, of which Russia is the No.2 miner after South Africa, rose to $1183 per ounce in March 2022 but today traded at $926 per ounce, falling 22% from that 9-month peak.
Prices for silver bullion
, of which Russia is the 4th largest miner in the world, traded flat on Monday at $21.73 following its 5th weekly drop to hit 2.5-month lows.
Like the other white and industrially-useful precious metals, silver also jumped on the Russian invasion, hitting 9-month highs at $26.93 but then losing 19% from that peak.
"Clearly Russian commodities are
coming back to market
," reckons Nicky Shields, head of metals strategy at Swiss bullion refining and finance group MKS Pamp.
Western export and financial sanctions have forced last year's "war premiums" to flip into "war discounts" Shields says.
The London Bullion Market Association (LBMA)
suspended Good Delivery status
for gold or silver from Russian bullion refineries with immediate effect on 7th March 2022, meaning that newly-case bars cannot be accepted in London.