Gold Price Splits in Dollars vs. UK and Euro as Rate Forecasts Diverge
Thursday, 9/07/2023 15:56
The GOLD PRICE reversed a small rebound in Dollar terms on Thursday, erasing all of last week's gains for US investors but holding firmer for UK and Euro traders as interest-rate expectations diverged between the 3 largest central-bank reserve currencies.
"[Yesterday's] stronger-than-estimated reading on the US services industry
bolstered speculation the Fed
will keep interest rates higher for longer," says Swiss bullion refining and finance group MKS Pamp in a trading note.
"The S&P 500 closed below 4,500, 2-year [US Treasury bond] yields topped 5% and gold fell through $1920 taking platinum (to $910) and silver (to $23) with it.
"Palladium seemed to find some support below $1200/oz."
"Quite clearly," agrees spread-betting platform Saxo Bank's commodity strategist Ole Hansen, "we've
seen a reversal in US economic data
from weakness to strength recently and that once again added to expectation that the Federal Reserve may not yet be done hiking rates."
Thursday's US economic data also revised labor-cost inflation higher for April-to-June while the number of new building permits issued in July slipped far less than analysts expected from June's steep rise.
Fewer than 1-in-12 bets on September's Fed rate decision now see another rise from the current 5.50% ceiling, but the
betting is almost 50-50
for November.
Further ahead, that trading in interest-rate futures now forecasts that a cut from the Fed is unlikely before June 2024, with the outlook for May's decision holding onto yesterday's move towards no change.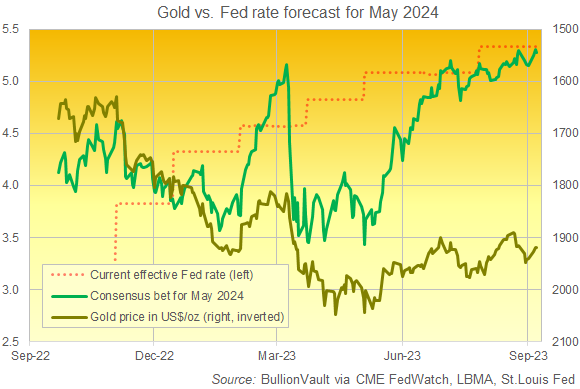 "It's
probably wise and necessary
," said James Bullard of the St.Louis Fed – like Collins, not a voting member of the Fed's Open Market Committee until 2025 – "that they keep that extra rate hike in there" for year-end 2023 when the FOMC issues its next set of 'dot plot' forecasts together with September's decision on interest rates in 2 weeks' time.
For UK interest rates, "I'm
not saying we're at the top
of the cycle," Bank of England governor Andrew Bailey said to lawmakers in London yesterday, "but I think we are much nearer to it...[because] the fall in inflation will continue and...will be quite marked by the end of this year.
"The question now is, will we see inflation expectations continue to come down? And
will that be reflected
into wage bargaining?"
Economic growth in the second quarter of 2023 slowed to 0.5% per year, new data said today, with the Eurozone's employment growth also revised lower for Q2.
Euro gold rose back towards €1800 this morning, an 11-week high when reached last Friday, before edging back €5 per Troy ounce into London's 3pm benchmark auction.
"Gold is
awaiting a new narrative
," says senior investment advisor Cam Currie at US$70bn Canadian investment bank Canaccord Genuity, noting that the
mini-crisis in banking stocks
which took gold above $2000 per Troy ounce this spring now feels like "a memory from a long time ago. The markets have forgotten about it."
Yet despite the lack of investment inflows – most especially lacking in
gold ETFs
and gold-mining stocks – the gold price remains "near its all-time highs [while] outside Nvidia and Apple, maybe Microsoft, how many [stock market] sectors are trading at all-time highs?"