Gold Price Rises as Sanctions Over Ukraine Hit Russia, Central Bank Starts Buying Amid Ruble Crash
Monday, 2/28/2022 15:53
GOLD PRICES rose Monday but held $60 per ounce below last Thursday's spike to $1970 after Vladimir Putin put Russia's nuclear deterrent on 'high alert' amid a domestic banking run and a collapse in the Ruble following strong international sanctions over his invasion of Ukraine, writes Atsuko Whitehouse at BullionVault.
Talks between Ukrainian and Russian officials began at the Belarus border, but President Volodymyr Zelenskiy in Kyiv was sceptical of them bringing peace.
With most of Europe and Canada closing their airspace to Russian carriers, the European Union also offered to
finance the purchase and delivery of weapons
and other materiel "for the first time ever to a country that is under attack," said the group's President Ursula von der Leyen.
European stock markets and Wall Street futures dropped Monday, taking the pan-European Stoxx 600 almost 10% below its January peak.
Russia's central bank more than doubled interest rates to 20% as the Ruble tumbled by almost 1/3rd to new all-time lows beneath 100 per US Dollar on the currency market, while it also re-started purchases of domestically mined gold for its FX reserves – now locked out of the international money markets by sanctions explicitly targeting the CBR.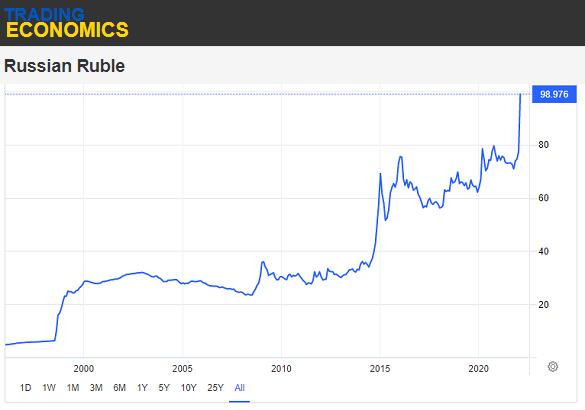 With the invasion of Ukraine now marking the 5th day of the biggest assault on a European state since World War Two, spot gold prices jumped around 2% to $1928 at Monday's opening in Asian trade.
"One builds a war chest of this size for times like these," the FT quotes strategist at Swiss refining and finance group MKS Pamp regarding the Bank of Russia's move to
start purchasing gold again
from domestic mine output, the world's 3rd largest national production.
That move came after the CBR was
hit by US-led sanctions
also shutting several of Russia's major commercial banks out of global financial markets.
"This is likely to be viewed as initially bullish by the market,"
Shiels says
of the impact on gold prices, "but the purpose of buying gold [with Rubles at home] is to monetise it when required."
The CBR accumulated
around 200 tonnes of gold per year
from 2014 until 2019, doubling its holding and becoming the biggest sovereign buyer of this century amid the previous Western sanctions over Russia's annexation of Crimea.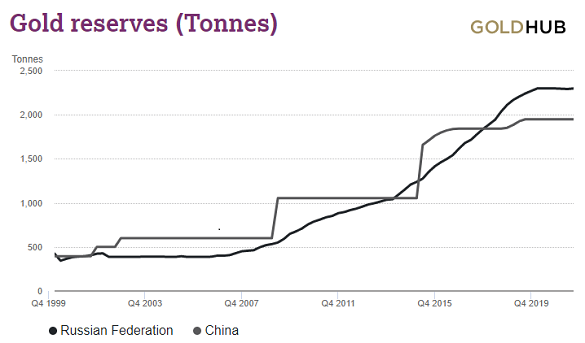 Shares in UK-listed oil giant BP today dropped 6.1% after the British group said it would divest all of its near-20% stake in Russian state oil provider Rosneft, a move
followed by other Western corporations
.
Base metals meantime surged, with aluminium setting a fresh record high while nickel rose and the price of wheat – of which Russia and Ukraine between them account for 30% of world exports – jumped to its highest level in 13 years.
Prices for silver, primarily an industrial metal, rose 0.9% to $24.48 per ounce, while platinum, which finds two-thirds of its demand from industrial uses led by auto-catalysts, traded sideway at $1060 per ounce.
The
price of palladium
– of which Russia is the No.1 miner – jumped near 8% to $2552 per ounce at Monday's opening, before paring $80 of that gain as traders fear disruption of the industrially-useful precious metals from fresh sanctions on Russia.
Gold prices meantime pared some of Monday's early gains in all major currencies as the US Dollar index – a measure of the US currency's value versus its major peers – rose to a 1-month high.
That edged gold back to $1910 per ounce, while wholesale bullion held a 1.1% rise at £1425 for
UK investors
and 1.8% at €1706 for European investors.
Oil prices also jumped early Monday, with Brent crude, the European benchmark, rising by as much 7% to touch $105 per barrel, after imposed sanctions prompting fears that energy supplies will be indirectly affected as Russia is a key oil supplier, especially to Europe.
Thousands of Russians
lined up at ATM cash machines
across Russia at the weekend according to media reports, rushing to get Rubles after the US, UK, Canada, France, Germany, Italy, and the European Commission on Saturday said they would block Russia's central bank from using its roughly $630 billion stockpile of foreign reserves.
Coming as Putin turns Russia into a "global economic and financial pariah" according to US President Joe Biden, the sanctions also plan to cut some Russian banks from the international Swift payments-data system.
The US has previously sanctioned only the central banks of Iran, Venezuela and North Korea.
"I have great confidence the effects of these measures will be felt immediately in Russian financial markets," a senior US official said.
"Market participants understand that without Russia having the ability to defend its currency, it will go into freefall."
Having already banned short-selling of Russian equities, the CBR also banned Russian stock brokers from selling shares held by foreign investors, with the Moscow Exchange remaining unopen all day Monday.