Comex Gold Hits $2000, New Record Price in EUR, CNY, GBP Despite ETF Outflows
Friday, 10/20/2023 16:17
GOLD PRICES leapt again Friday, hitting $2000 per ounce on the most-active Comex contract and setting new all-time highs for Japanese and Australian investors in spot-market trade plus fresh all-time benchmark highs in Chinese Yuan, Euros and UK Pounds even as investor selling and ETF outflows contradicted any claims of 'safe haven' demand for physical bullion amid the worsening risk of the Israel-Hamas war spreading across the Middle East.
Shanghai's daily gold price benchmark set a new all-time high just below ¥475 per gram, up 1.1% on the day and extending the 12-month rise for
gold investors in China
– the precious metal's No.1 mining, consumer, central-bank buying and importing nation – to 22.4%.
The
UK gold price in Pounds
per Troy ounce traded at £1636 around London's PM benchmark auction, just beating late-March's peak from the mini-crisis in US regional banking stocks.
Euro gold meantime fixed around €1879, topping March 2022's Russia-Ukraine invasion high by almost €10 per ounce.
"Gold scales 3-month peak as Middle East conflict spurs demand,"
says a headline
at Reuters today.
Yet Thursday's price jump saw the giant GLD gold-backed ETF remain unchanged in size, keeping its number of shares in issue at the lowest for more than 4 years and shrinking by 1.6% for the week so far.
No.2
gold ETF
the IAU meantime shrank another 0.2% on investor liquidation yesterday, heading for its 13th consecutive weekly outflow.
"There is fear that [the Israel-Hamas war] is going to escalate into something of a broader regional crisis, potentially a protracted conflict," the news-wire quotes one spread-betting bookmaker.
"So we are seeing investors positioning in safe havens."
Yet with gold bullion seeing net investor selling across the board as the Middle East crisis deepens, US Treasury bonds – also regularly identified as a 'safe haven' asset by news-wire headlines – have fallen in price yet again this week, driving up the yield they offer to new buyers to fresh multi-year highs overnight.
London's physical gold bullion benchmark rose 3.7% this week.
Comex December futures
rose 3.9%, with the contango over London spot prices offered by October 2024 futures rising from $100 to $120 per ounce.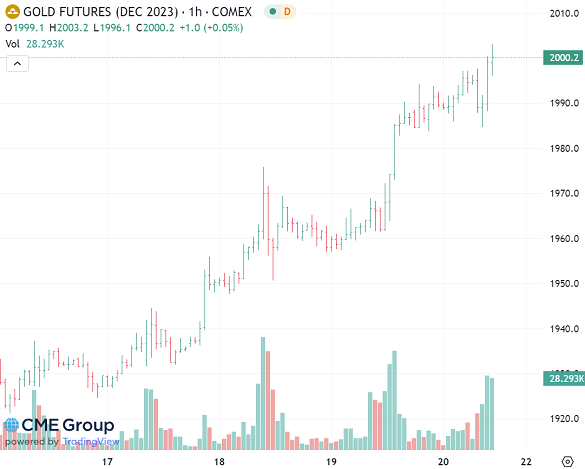 "Australian gold price hits record high as investors seek security amid Israel-Gaza war,"
says ABC News
in Sydney, failing to include any reference to or evidence of rising gold investment demand in its story.
Japanese Yen gold prices also hit fresh all-time highs Friday, peaking very close to ¥9,600 per gram of wholesale gold bullion.
The Rupee gold price for buyers in India, the precious metal's No.2 consumer market, meantime rose to 5-month highs,
denting retailer expectations for sales
over the forthcoming run-up to Diwali.
US Dollar gold on Friday peaked at $1990 as London's physical market closed for the weekend, leaving Comex futures and options traders to drive the price still higher.
That still leaves the most commonly referenced gold price worldwide almost $100 beneath this spring's record top.