Gold Holds Tightest Trading Range in 5 Years as Real Rates Hit 2009 Highs
Friday, 9/22/2023 15:25
GOLD TRADING in London saw the price cut its overnight rebound on Friday, making a week-on-week drop of barely 0.1% and extending the bullion market's weakest volatility since 2018 as global stock markets suffered their steepest weekly drop in 6 months and the sell-off in Western government bonds kept longer-term interest rates at multi-year highs.
The yield on conventional US Treasury bonds today edged back from Thursday's fresh 16-year highs, while the yield on inflation-protected 10-year debt ticked 2 basis points lower from yesterday's close of 2.11%, the highest since March 2009, bottom of the Lehman Brothers' crash in US equities.
Typically showing a strong, negative correlation against 10-year TIPS yields – and moving in the opposite direction to those 'real interest rates' 2/3rds of the time on a month-to-month basis over the past 2 decades – gold priced in the Dollar was trading at $900 per ounce when the bond market's inflation-adjusted borrowing cost was last this high.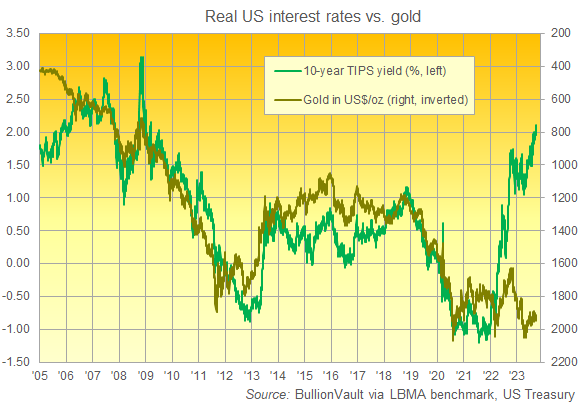 "Yields surge amid potential government shutdown," says
a headline at Markets Insider
, with Treasury bond prices sinking after the House Freedom Caucus of Republican politicians blocked the passage of a defense funding bill, putting their party's
debt-ceiling deal from May
with Joe Biden's Democrat White House in jeopardy.
"US stocks drop most in 6 months as Treasury yields surge," says Bloomberg of yesterday's 1.6% fall in the S&P500 index.
But after slipping just 10 cents last week, London gold priced in the Dollar today heading into Friday afternoon's benchmarking auction just $1.50 per Troy ounce below its level 7 days ago, extending the precious metal's run of low volatility at $1926.
Since this point in May, gold's highest weekly finish on the LBMA Gold Price has now exceeded the lowest by just 3.7%. That's the smallest such 4-month trading range since spring 2018, just before the precious metal began what has now been a 5-year uptrend.
Silver bullion has meantime swung 10.8% between its lowest and highest Friday fix in London. That represents the
more industrially-useful precious metal
's smallest such 4-month trading range since New Year 2020, eve of silver's dramatic Covid Crash and then rebound.
"It's been a week of unexplained price action in many asset classes," says a trading note from Swiss refining and finance group MKS Pamp, "[but] the divergence between silver and its peers...is perplexing.
"With gold's $30 washout [on Thursday], platinum and silver naturally came under pressure, falling below $920 and $23/oz respectively. White metals usually tend to oversell in such risk-off environments, but silver [made an] aggressive comeback, almost a straight 60-cent rally.
"Trying to decipher what happened is tough (and futile)," MKS says, adding that "Silver doesn't have the narrative in this macro environment to upstage gold. So outsized/unexplained rallies will likely be faded."
Giant silver-backed ETF trust fund the SLV expanded again on Thursday, with investor demand growing the number of shares in issue by 1.8% for the week so far, the largest inflow since end-January.
Gold prices in Shanghai had earlier finished the week just below ¥472 per gram, a new week-end
record-high price for gold in China
– the precious metal's largest consumer and central-bank buying nation.
Gold priced in the Yen meantime whipped back up to ¥9,180 per gram – a new record high when first reached a week ago – as the Japanese currency fell hard on the FX market following the central bank in Tokyo's decision to
continue with its ultra-easy monetary policy
despite inflation reaching the highest in 3 decades.
The UK gold price in British Pounds dropped £5 on Friday afternoon from this morning's fresh 15-week high of £1574 per ounce, hit after
preliminary services-sector data
for September showed the worst slowdown in activity since the Covid lockdowns of New Year 2021.
Euro gold rose €3 for the week at €1807 per ounce as today's PMI activity surveys also showed continued recession in the 20-nation currency union's services and manufacturing sectors.