Gold Price -2.6% for Week, Crude -5% as US Fed, ECB and BoE Vow 'Higher for Longer'
Friday, 11/10/2023 16:02
GOLD PRICES ended Friday in London with the lowest weekly finish in 5 today, dropping even as longer-term bond yields fell again but crude oil dropped further as the European Central Bank joined the US Fed and the Bank of England in saying it's too early to start discussing cuts to short-term interest rates until inflation slows to their common target of 2.0% per year.
"This week was fairly quiet on the macroeconomic data front," says French bank Natixis, "[but] the calm was abruptly broken by Jerome Powell's speech...[spurring] market swings...volatility in rates [plus a] collapse in oil prices."
"It's [just] the usual boilerplate about being vigilant about inflation," counters a trading note from Swiss gold bullion refiners and finance group MKS Pamp.
"
They are done hiking
[unless] we get stupidly strong data between now and December and that's very unlikely."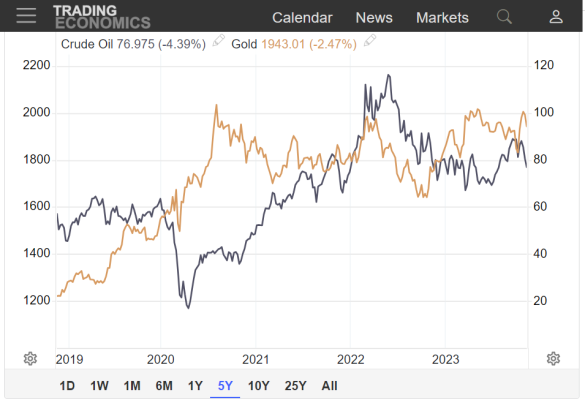 "Policy is going
have to be restrictive
for an extended period...to bring inflation back to target," said UK central bank governor Andrew Bailey on Wednesday, now trying to tackle an underlying annual rise of 6.1% in the cost of living with 5.25% interest rates.
Now holding its key rate at 5.33%, the Federal Reserve is also "committed" to setting rates high enough to get inflation down to 2% – half the latest pace of
growth in core CPI
, due for October data next week – said Fed chair Jerome Powell on Thursday.
Gold then fell to $1942 per Troy ounce – down 2.6% for the week in Dollar terms – as ECB chief Christine Lagarde today told the
Financial Times
in an interview
that, for the 20-nation Eurozone, "We are going to be data dependent.
"[But] what I can tell you though is that [a rate cut] is not something in the next couple of quarters. Even if energy prices were to remain where they are, there will be a resurgence of probably higher [inflation]."
With US crude oil hitting 4-month lows beneath $75 per barrel around Powell's speech – and dropping by almost 1/5th from the peak hit after Hamas' terrorist atrocities in southern Israel provoked the current Israeli bombardment and invasion of northern Gaza – the Dollar regained half of its previous drop against the rest of the world's major currencies which followed last week's "no change" decision on US interest rates from the Federal Reserve.
That saw gold priced in Euros and British Pounds fall less for the week, both down 1.5% from last Friday to €1821 and £1592 per Troy ounce at this afternoon's London benchmarking auction.
Looking ahead on interest rates, "Consider metrics like US overtime hours, which is plummeting," says MKS Pamp in its gold trading note.
The drop in crude oil prices is also "a classic recession incoming signal in light of [what should be strong] fundamentals and geopolitics."
The UK saw
zero economic growth
over the 3 months to September, new figures said Friday, with total business investment sinking by 4.2% from the prior calendar quarter's strong growth.
"Industrial metals continue to face headwinds from weak activity in Mainland China," says a note from financial ratings agency Fitch Solution's BMI division, "with the country's manufacturing PMI falling back into a slight contraction in October.
"That being said, we have seen price support in the past week on the back of
additional stimulus measures
introduced by the Mainland Chinese government."
"China falls back into deflation," say several headlines today after Beijing's official statistics agency said the cost of living in the world's 2nd largest economy fell 0.2% per year in October.
Stripping out 'volatile' food and fuel prices – most notably the
plunging price of pork
amid growing over-supply of China's favorite meat – the core inflation rate slowed to 0.6% per year. It hasn't topped 1.0% since New Year 2022.
Gold demand in No.2 consumer India is looking
"cautiously optimistic"
into this weekend's Diwali festival, the Economic Times reports, with jewellers saying they expect a 10% rise in sales compared to the key gold-buying season last year.