Gold Price Jumps on Weak US Data, Hits New Records in JPY and CNY
Wednesday, 8/30/2023 15:01
The GOLD PRICE leapt against a fast-falling US Dollar Wednesday lunchtime in London, touching 4-week highs above $1946 per Troy ounce and rebounding over 3% from last week's 5-month lows after new data said the world's largest economy is starting to cool just as the Federal Reserve vows to keep interest rates 'higher for longer'.
Gold prices had already hit fresh all-time highs for citizens of the 2nd and 3rd largest national economies overnight, with domestic prices for physical bullion rising further above
1000 Japanese Yen per gram
in Tokyo and hitting 462 Chinese Yuan per gram in Shanghai.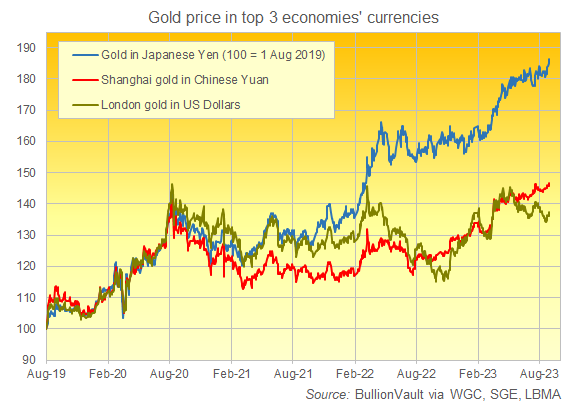 US GDP growth for April to June was today
revised down to 2.1% annualized
from the Bureau of Economic Analysis' initial 2.4% estimate, holding in line with Q1's 2.0% pace.
This month's US jobs growth
also missed consensus forecasts
on the private-sector ADP Payrolls estimate, more than halving from ADP's estimate for July but "consistent with the pace of job creation before the pandemic after two years of exceptional gains tied to the recovery," according to chief economist Nela Richardson.
"If consumer spending shrinks," says analysis from consultants SFA (Oxford) for German refiners Heraeus, "a recession
becomes almost inevitable
and that would result in falling bond yields, interest rate cuts, declining real interest rates and a weaker Dollar which would be positive for gold."
Betting that the Federal Reserve will raise rates yet again in September has now halved from this time last month to 1-in-10 of speculative positions, according to the CME derivatives exchange's
FedWatch tool
.
Betting on the Fed's first rate cut, however, has held little changed, with the market still putting the odds of a reduction from today's Fed funds' ceiling of 5.50% at 2-in-3.
State-owned banks in China are meanwhile set to cut the interest rate charged on existing mortgages, Reuters
reported Tuesday
, further denting banking sector profit margins – already down to a record low this summer after the People's Bank ordered a cut to new mortgage costs.
"China's too-big-to-fail property giants are
just the tip of real estate crisis
," says the
South China Morning Post
, because "suppliers are being dragged to death" as indebted developers led by Evergrande and Country Garden leave both their staff and small contractors unpaid, while "millions of homebuyers who pre-bought property have little recourse but to wait for a turnaround. Industry insiders say the onus is on Beijing to act."
"Just as China faces a Japan-style 'lost decade'," says a column at
Fortune
magazine, "Japan
thinks it's near a 'turning point'
in its decades-long deflation battle," with the plunge in the Yen's exchange-rate value helping the world's 3rd largest economy show
6.0% annualized growth
in the second quarter.
"[With] more cracks beginning to show in the Chinese housing market," says SFA for Heraeus, "[that's] adding to hopes of greater and more impactful [stimulus] measures, particularly in the industrial sector" – and those expectations are supporting industrial metals prices, including silver, which is a vital element in
solar-energy PV panels
as well as electrics and electronics among other uses.
Silver today tracked and extended the Dollar-price jump in gold, briefly touching $25 per Troy ounce after the US GDP and jobs news for a week-to-date gain of 2.5%.
Germany's first inflation estimate for August today beat analyst forecasts today at 6.4% per annum on the European Union's 'harmonized' measure,
slowing just 0.1 points from July
and holding above May's 15-month low.