Silver: Solar Investing Tops Oil But 'Needs to Double'
Wednesday, 6/28/2023 20:04
Record PV silver demand takes 1 ounce in 7 despite thrifting...
SILVER DEMAND from the solar-energy sector will set a new record in 2023 according to leading experts, while capital investment into photo-voltaic power worldwide will overtake new investment in oil production for the first time.
Even so, "the harsh reality [is still] that we are not on track to deliver on the Paris Agreement," says Francesco La Camera, director-general of the International Renewable Energy Agency (IRENA).
To begin fixing that, annual growth in solar capacity – for which silver is a critical metal – must double from last year's level, La Camera
said last week
, if renewable energy is to replace fossil fuels fast enough to limit global warming caused by carbon emissions.
Total 2023 silver demand will already outstrip new mine supply for a 5th year running according to bullion-market analysts Metals Focus, with new PV capacity investing set to drive a near-15% annual rise in the sector's demand for bullion by weight.
Based on year-to-date
silver prices
that would equate to an annual rise of 23.6% in the solar sector's spending on the precious metal, outpacing the PV industry's total investment growth of 18.6% on the International Energy Agency's estimate for 2023.
La Camera at IRENA last week called for 551 GigaWatts of new capacity to be installed worldwide every year between now and 2030, with total installed capacity then needing to triple again by mid-century to meet the Paris Agreement's net-zero target.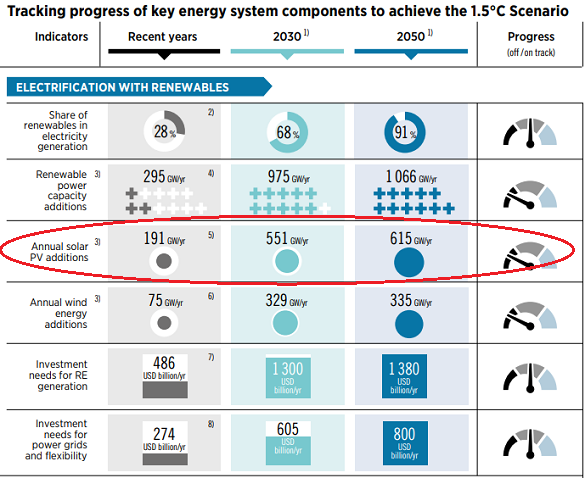 Whatever the true figure, the silver powder and paste required by the solar industry last year needed to some 4,365 tonnes of bullion according to Metals Focus' latest estimate – more than 11% of the metal's total physical end-use demand across the year – published this April in the
World Silver Survey
for the Washington-based Silver Institute representing miners, refiners and other supply-chain players.
Comparing total new PV capacity installed worldwide with the total tonnage of silver used by the solar-energy industry each year, analysis by BullionVault of Metals Focus and IEA data says that thrifting of silver has reached nearly 90% thrifted over the last 15 years, taking the quantity needed per Watt of capacity down from 0.12 grams in 2008 to 0.015g on 2023 estimates.
On those figures, the PV industry will achieve a 5-year annualized thrifting rate for silver in new solar cells of 10.0% in 2023, matching the pace of 2022 and up from a low of just over 6% seen in 2019 but less than half the pace of reduction achieved a decade ago, after
the spike in silver prices to $50
per Troy ounce, near an all-time record high and more than twice 2023's average to date.
Metals Focus now estimate that silver use by the PV sector will now by 14.8% this year to a new record above 5,000 tonnes, accounting for almost 1-in-every-7 tonnes of physical end-use worldwide.
With silver averaging a price of $23.40 per Troy ounce across the first 6 months of 2023, buying that much of the metal will cost around $3.8 billion – less than 1% of the IEA's projection for total PV industry investment this year.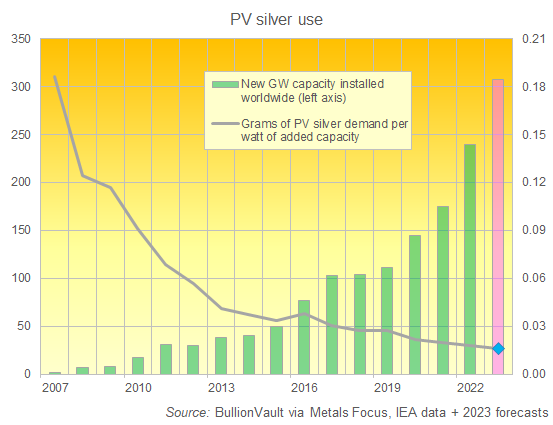 At the level of PV cells, silver currently accounts for 10-12% of a typical module's cost according to Michael DiRienzo of the Silver Institute. That rises to 14% for so-called 'n-type' cells – a more efficient form of the technology now seeing rapid adoption but which currently needs slightly higher silver loadings per unit.
"Manufacturers will work to reduce the level of silver loadings."
Excluding the cost of land or property – "the
most expensive part
of a solar energy utility" according to the Solnet Group consultancy – solar panels typically account for 30% of total installed PV power plant costs worldwide according to data from IRENA.
That's
topped by the cost
of wiring, switches, batteries and other balance-of-service (BoS) equipment, now rising from 50% of PV power plant costs even when BoS inverters are excluded (needed to convert the variable 'DC' direct current generated by solar energy to 'AC' alternating current for transmitting through the electricity grid to power electrical appliances).
Owing to its physical brilliance and conductivity, "Silver is
the most critical metal
posing price and supply risks when PV production expands," said a paper earlier this year from researchers at the School of Photovoltaic and Renewable Energy Engineering, UNSW Sydney in Australia.
Today's installed capacity offers "significant" future potential for recovery and recycling of the silver already contained, the UNSW research says. But because collection and recovery rates are currently "low", and with the typical 25-year lifespan for solar panels now being pushed out to 40 years, the vast bulk of the silver needed to expand PV capacity by 2050 – the Paris Agreement's target date for 'net zero' carbon emissions, aimed at limiting global warming to a rise of 1.5°C above pre-industrial levels – will need to come from new mining and existing above-ground stockpiles.
That accumulated demand could top 100% of the global silver mining industry's current underground reserves over the next quarter-century, the UNSW paper says, as new solar farms are built to meet more of the world's power demand with renewable energy.
The National Energy Administration in China
said this month
that the world's second largest economy added more than 61 GW of new PV capacity between January and May, with investment in solar-power projects rising 140% year-on-year in terms of the Chinese Yuan.
But China's world-leading coal production and demand also both continue to grow, helping use of the dirtiest fossil fuel reach a new global record in 2022 on IEA data, with 2023 investment into mining coal worldwide "on course to reach
nearly six times the levels
envisaged [for] 2030 in the Net Zero [by 2050] scenario."
Separate research reports from scientists in China, Sweden and Greece have recently proposed new methods for recycling certain types of solar panels to achieve near-100% recovery of the silver they contain, up from today's practical limit of 85%.