Gold Price Jumps for UK, Euro and US Investors as Data Slumps Before Jackson Hole
Wednesday, 8/23/2023 14:49
GOLD PRICES jumped for Euro, UK and then US investors in London trade Wednesday, erasing all of last week's plunge after new data showed activity across the European and UK economies shrinking at the worst pace in well over 2 years while the USA has slowed worse than analysts forecast.
Western government bond prices jumped, driving longer-term borrowing costs lower as traders bet that the European Central Bank and Bank of England will both stop raising interest rates sooner than later.
But even with US economic data today surprising the markets with a sudden slowdown, Federal Reserve chairman Jerome Powell is expected to confirm that Dollar interest rates will stay 'higher for longer' to fight inflation when he speaks Friday at the
annual Jackson Hole policy symposium
in Kansas, and more than
1-in-3 bets on Fed decisions
still expect the US central bank to raise once more in November, peaking at 5.75%, the highest since end-2000.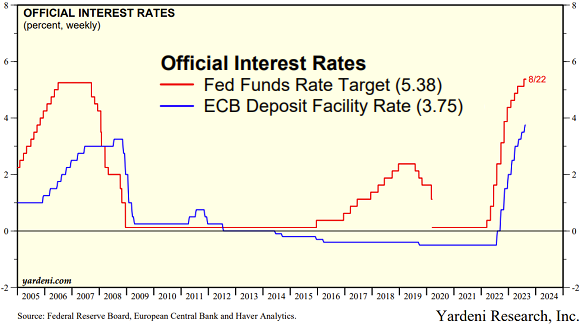 "If pandemic months are excluded," said data agency S&P Global's latest survey of Eurozone manufacturing and services-sector businesses early Wednesday, this month's preliminary reading on the seasonally adjusted HCOB Flash Eurozone Composite PMI Output Index is "the
lowest since April 2013
."
Across the United Kingdom the agency then said, private-sector firms as a group report the first downturn in business activity for 6 months, with the continued recession in manufacturing now spreading to services amid "
sluggish domestic economic conditions
and higher borrowing costs [while] inflationary pressures continued to moderate."
As for world No.1 economy the USA, "Private sector at near-stagnation amid renewed fall in demand," said S&P Global in its final flash PMI press release of the day.
With the Dollar gold price leaping to $1918 after that data, the UK gold price in Pounds per Troy ounce extended its earlier leap to £1513, up more than £30 from last week's low, as Sterling sank.
Euro gold prices meanwhile touched €1770, up nearly 2.2% from Monday morning's fresh 5-month low, even as the single currency rallied from 2-month lows against the Dollar following the US PMI data.
"The fact is, the Fed is close to or at the interest-rate plateau," says Vincent Reinhart, chief economist at securities and money management group Dreyfus and Mellon.
"Compared to a year ago, things have broken his way."
Silver also jumped Wednesday, outpacing the gains in the gold price to rise to $24.25 per Troy ounce, up 7.9% from last Tuesday's 8-week low.
Concerns over China's real-estate slump deepened yet again, meantime, with construction workers at Country Garden – the giant builder now in default on its debt repayments – going
unpaid since New Year
as its apparent halt to activity also hits buyers in development projects
in Malaysia and Australia
.
The domestic Chinese gold price rose less quickly than London quotes in Dollar terms overnight, edging the Shanghai premium for bullion landed in the precious metal's No.1 consumer country down $2 from
Monday's new all-time record
above $57 per Troy ounce.