Gold Mining: Investment 'Must Resume' as Reserves' Life Shrinks 1/3rd
Wednesday, 9/20/2017 12:04
Capital investment rallies with gold price but leaves today's mining levels 'unsustainable'...
GOLD MINING investment in finding new reserves "must resume" if global output isn't to start falling, according to new analysis from a top consultancy.
Studying 11 of the world's largest stockmarket-listed gold miners, specialist analysts Metals Focus say that current investment spending on exploration and new projects is "well below" the level needed to sustain current production.
"Without investment, the inventory does become depleted," says the consultancy's latest
Precious Metals Weekly
. While "not yet critical", the productive life-time of underground reserves amongst today's leading
gold mining
companies has sunk by one third from the peak of 27 years hit in 2013 after heavy investment to just 18 years today.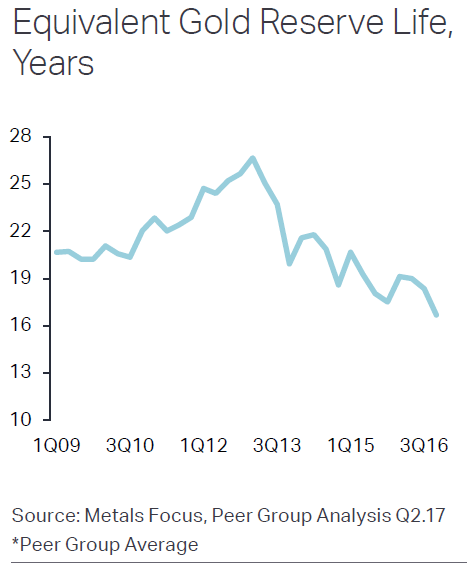 To maintain current output levels, Metals Focus says, "Investment in exploration and new projects must resume."
Shares in Kinross Gold Corp. (NYSE:KGC) – the world's 5th largest gold producer – fell over 7% on Monday after it announced an $800 million investment "essentially [to] tread water" on the volume of metal it mines, according to Bloomberg.
Cashflow will improve as a result of greater efficiency, the newswire quotes Kinross' CEO Paul Rollinson, but despite the investment – equal to 14% of KGC's current stockmarket value – "top line production will be similar," he confirmed, at around 78 tonnes per year.
The plunge in bullion-market gold prices from 2012 to 2016 saw gold-mining shares sink and investment slashed, Metals Focus says in its new report.
Across the 11 major miners in Metals Focus' study, capital expenditure sank from $6.3 billion in the last 3 months of 2012 to $1.6bn in the first quarter of 2016, when the gold price finally turned higher from $1045 per ounce, down from a spot-market peak of $1920 hit in early September 2011.
Gold prices
have gained over 25% since then, and major-mining capex has recovered to $2.2bn in Q2 2017 on the consultancy's analysis.
But this size of investment "is still well below a level, in our view, that is required to make production sustainable," this week's report warns.
After a decade of unbroken global growth,
gold-mining output plateaued in 2016
, creeping up to 3,260 tonnes but since slipping 0.3% between January and June 2017 compared with the same period last year
according to data
from mining-backed organization the World Gold Council.
"There are relatively few new projects and expansions expected to begin producing this year," said a first-half 2017 report from specialist analysts GFMS, part of the Thomson Reuters news and data group, in late July.
Amongst the "modest" new projects GFMS listed, Argonaut Gold (TSE:AR) yesterday reported its first pour of metal mined from the San Agustin project in Mexico, 10 months after breaking ground, while Compañia de Minas Buenaventura (BMV:BVNN) says its Tambomayo project in Peru has now achieved commercial production levels, with just below 2 tonnes of refined output expected by New Year 2018.
Canada-based Eldorado (TSE:ELD) is
suspending work
at both Olympias and Skouries on northern Greece's Halkidiki Peninsula, spending $30m to put the two projects on "care and maintenance" after the authorities failed to grant mining permits amid widespread
protests both for
and
against the projects
.