India's 'Grey Market' in Gold Jumps 80% on Tax, New Rules
Tuesday, 12/12/2017 18:47
No.2 gold market defies 'anti-money laundering' push...
INDIA's gold market has seen a surge in "unofficial" supplies according to analysts, defying the government's push to tax and regulate the world's second-heaviest consumer demand for the metal.
While gold imports rose 50% on official data from the July-September period of 2016, "Our estimate is that unofficial trade increased by 80% year-on-year in Q3," says the latest Gold Survey 2017 Update from specialists Thomson Reuters GFMS.
The proportion of retail gold and jewelry sales made using invoices and bank-accounts payments meantime fell to 40-50%, say analysts Metals Focus, down from 60-70% before this summer's introduction of Goods & Services Tax plus new anti-money laundering rules.
Heavy stockpiling by manufacturers and retailers ahead of the new taxes and rules saw India's gold imports surge in the first half of 2017, but the following drop in consumer demand has seen the market over-supplied, holding domestic prices at a prolonged discount to international bullion quotes.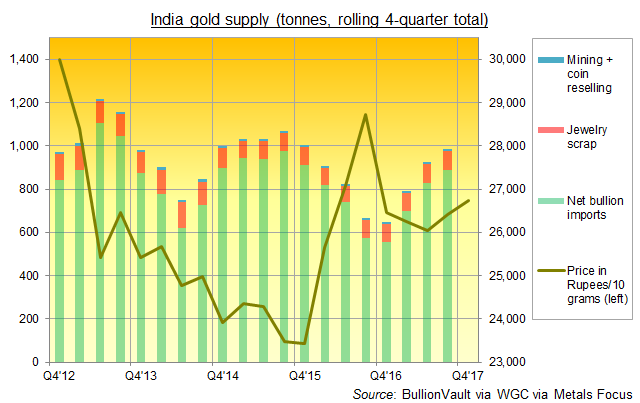 GST is now charged at 3% on the value of gold, plus 5% on fabrication fees. The tax rate on these "making charges" was 18% at July 1's GST launch, but it was
cut following strong representations
to government by India's huge gold and jewelry industry.
August's imposition of rules from the Prevention of Money Laundering Act 2002 was
then revised in October
, again after lobbying by the jewelry industry, to raise the reporting limit for cash transactions from 50,000 to 200,000 Rupees.
Coming just before the key autumn festival of Diwali – peak season for household demand in India's giant gold market – that means purchases of as much as 75 grams at current prices do not require the seller to demand proof of the buyer's I.D. for reporting to the tax authorities.
"This decision
was well-timed
," says mining-backed market development organization the World Gold Council in its Q3 commentary. "Consumer sentiment improved dramatically, although reports suggest only average festive-season buying due to the continuing obstacle of GST."
But "the implementation of PMLA created negative sentiment across much of the industry," says a note from
Metals Focus
, "[and] in the current climate will not serve its intended purpose.
"Instead it will push the industry more towards cash transactions."
An increase in "unofficial" or so-called 'grey market' gold "may be counter-intuitive," agrees GFMS, "[because] GST was supposed to bring traceability.
"But the cost of compliance has increased the cost of gold [and] in India the majority of retailers are still small-sized standalone and family-run businesses.
"A large number of them do not fret to walk the less compliant path to protect their customers' interest and to avoid being taxed."
Estimates from Metals Focus reckon that India's artisanal jewelers –
estimated to employ
over 2 million people – accounted for some 70% of retail sales in 2016, down from 95% at the turn of the millennium.
The balance has shifted to larger, national retail chains led by Tata Group's Titan Co., owner of the Tanishq brand, with analysts forecasting a further drop to 60% for the less formal artisanal sector
prior to this summer's changes
.
Reports of
heavy gold smuggling
continue meantime, with criminal gangs exploiting the 10% profit margin offered by the import duty tariff applied to legal inflows of gold bullion since 2012.