India's Gold Bullion Imports Jump on Price Decline
Friday, 6/10/2022 14:48
Gold buying rallies in No.2 consumer nation...
AFTER a poor beginning to the year for India's gold demand in 2022 with low bullion imports, India saw a steep rise in May as gold prices fell, writes Gabriela Daurignac at BullionVault.
According to news-wire Reuters, last month's gold imports jumped by 677% compared to May 2021, with bullion inflows to India – the precious metal's No.2 consumer nation after China –
reaching 101 tonnes
from 13 tonnes a year earlier.
That comparison flatters May 2022 however, because high bullion prices and anti-Covid lockdowns throughout India had badly hurt its gold demand 12 months before, with the rest of 2021 proving far more prosperous as import levels remained superior to the country's 5-year average roughly through the entire year, except in May and June.
In contrast, 2022's gold imports to India have so far been inferior to the 5-year average for the majority of the first half of this year.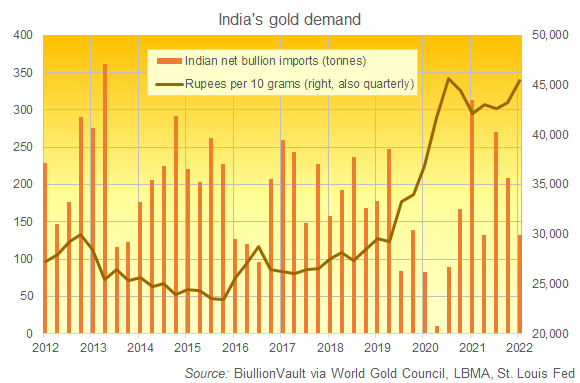 "Retail consumers were waiting for price correction," Reuters quotes Harshad Ajmera of bullion dealers JJ Gold House in Kolkata, eastern Indian.
"As prices corrected during Akshaya Tritiya festival, they rushed to jewelry shops."
Looking ahead, and with the Hindu wedding season of April to May now over, India's household gold demand typically softens from June to September, until weddings and festivities return after the monsoon rainy season and then Diwali comes after the harvest in October.
A good monsoon season consisting of heavy rainfall would likely help boost rural consumption by raising farmers' incomes, potentially benefiting the country's gold market.
Farming
contributes around 15%
to India's $2.7 trillion economy, according to Reuters, with more than half the population of 1.3 billion depending on agriculture for its income.
Analysis published in 2019 by the mining industry-backed World Gold Council found that every 1.0% increase in rainfall compared to India's long-run monsoon average
boosts gold demand
by 0.2%. Weak seasons, in contrast, would lead to a poor harvest, raising food prices as rural incomes fell and meaning people couldn't buy as much gold.
This year, India is likely to
see rainfall at 103%
of the long-term average, said Mrutyunjay Mohapatra, director general of the state-run India Meteorological Department (IMD), at a news conference last week.