Trump's Big Boost to Coal
Sunday, 10/15/2017 09:01
Think you can trade political headlines...?
The TRUMP TRADE is back on track! cheers Greg Guenther in Addison Wiggin's Daily Reckoning.
At least that's what the so-called smart money is saying...
While the White House can't boast about any major political wins related to tax cuts or infrastructure spending yet, investors are once again bidding up the stocks and sectors that follow Trump's growth-focused agenda.
The materials and finance sectors are both resting near year-to-date highs after enjoying strong September rallies. But another one of these rising Trump trades is headed for disaster in the years ahead. Regulation rollbacks, subsidies or other hair-baked political schemes can't save it from a painful demise.
But that doesn't mean we can't book short-term gains as a dead cat bounce lifts the coal industry from its lows.
"The EPA and no federal agency should ever use its authority to say to you we are going to declare war on any sector of our economy," EPA head Scott Pruitt told a crowd in Kentucky yesterday.
The war on coal is over, Pruitt said. But if this administration thinks it can permanently revive the dying coal industry by cutting some regulations, they're in for a surprise.
Even in developing nations, coal is losing its appeal as a cheap power source. In fact, world coal production just endured its biggest drop of all time earlier this year. Coal demand in the US dropped by more than 33 million tons last year, Bloomberg reports, while global coal consumption dropped 1.7%, falling in every continent except Africa.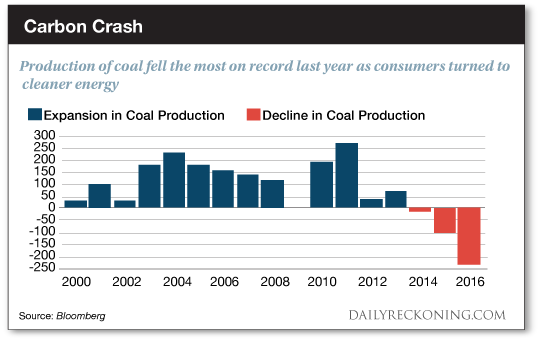 Across the globe, the coal industry is dying. The industry is teetering on the brink as most of the developed world moves on to cleaner energy sources. And in an age of cheap and plentiful natural gas, coal would have trouble staying in play even if we tossed every regulation out the window.
But Trump is still trying to flip the script.
In late March, Trump signed an executive order aimed at rolling back Obama-era rules curbing carbon emissions. Specifically, Trump's order requires the EPA to repeal the Clean Power Plan, a hefty set of rules imposed on coal power plants.
The White House framed the executive order as a move to bolster the country's energy independence and restore coal mining jobs. The news even provided a temporary boost to coal mining shares.
Trump has helped juice the VanEck Vectors Coal ETF (NYSE:KOL) not once but twice on so-called bullish news. The first peak materialized when Trump was elected. And the most recent climax materialized after the Clean Power Plant repeal back in April. The coal ETF's spring slide gave even produced a quick 15% correction.
But coal started sneaking higher once again over the summer. By August, KOL had pushed to prices not seen since late 2014. After consolidating these gains over the past several weeks, coal looks ready to make and fourth-quarter run.
The stock market's biggest moves rarely play out as perfectly as the stories we read in the finance pages.
Remember, the day of Trump's victory was the exact top of coal's 2016 rally.
That's right – coal made its big move before Trump took the White House. The big energy winner of 2016 wasn't oil, gas, or solar. It was coal. The sooty stuff finished the year with a gain of 98%. That's almost a clean double from one of the world's dirtiest energy sources. And the rally started months before anyone was seriously talking about Trump winning the White House.
Once again, counterintuitive market moves stump traders who think they can trade political headlines. Investors knew Trump campaigned in favor of coal jobs and deregulation. But that didn't change the fact that the coal rally needed a break.
Coal has badly burned the headline traders over the past 12 months. But if you follow price, you stand a fighting chance at walking away with substantial gains.
We've enjoyed some success playing coal's crazy moves recently. We took profits on a short-term coal play back in December 2016 for a 40% gain. Then we attempted to play the March breakout to new highs (the market immediately stopped us out when it reversed).
Now coal is setting up for a big move again. We want to take another run at this play and grab the gains while we still can.
In the grand scheme of the markets, coal's comeback move is probably nothing more than a dead cat bounce. But we're more than happy to take the ride if it can hand us double-digit gains. That's a distinct possibility if KOL can push above its September highs.
Trump can't save coal. No one can. But that doesn't mean we can't profit from a quick trade...