China Buys Gold at Record Prices But India's Demand Sinks
Thursday, 3/23/2023 13:09
Shanghai premium rises as global and Yuan prices jump...
RECORD HIGH PRICES are failing to deter demand to buy gold in China's wholesale market, extending a 6-month run of strong purchases and breaking the historic pattern of price-sensitivity in the precious metal's No.1 consumer nation.
No.2 consumer India, in contrast, has seen a sharp retreat in household purchases, down 40% on some reports, spurring a jump in profit-taking, and killing a rebound in demand ahead of Akshaya Tritiya – now promoted as a key festival to buy gold as well as silver jewelry, bars and coins on the Hindu calendar.
Over the last decade, that has seen the Shanghai premium – meaning the gap between China's wholesale gold prices and those quoted by dealers in London – rise or fall in opposition to global gold prices 2/3rds of the time on a monthly, quarterly and 12-month basis.
But with global gold prices rising sharply in US Dollar terms this month while setting new record highs in many other currencies, the Shanghai gold price in Chinese Yuan has risen faster, reaching a fresh all-time high on Monday at ¥446 per gram and taking the Shanghai premium 12% higher across March so far versus last month's average, offering an incentive of more than $30 per ounce to new bullion imports.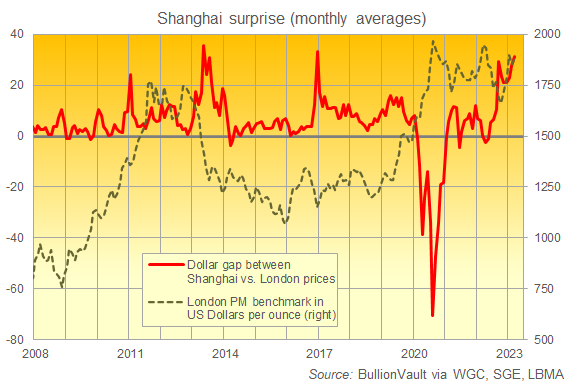 Premiums in India have in contrast flipped back to a deep discount against London quotes as the local rate – inclusive of 15% import duty and GST sales tax, aimed at deterring household demand to buy gold – also sets new records, crossing the ₹60,000-mark per 10 grams for the first time.
Dealers' prices even before this week's global gold jump stood around $20 below landed costs for new imports on data from specialists
Metals Focus
, the leading providers of precious-metal market data and analysis, now marking their 10th anniversary as an independent consultancy.
Consumer gold buying has meantime
fallen 40% so far in March
according to jewellers cited by the
Economic Times
, with the rise in gold rates to new record highs coming at an "inopportune time" ahead of the festival and wedding season set to start in April.
The last year's rising prices and high import duty – aimed at denting household demand in India, which has next-to-no domestic mine output – saw it gold imports
decline by 29.7%
over the 10 months to February compared with the same period of the 2021-22 tax year according to data from the country's Trade Promotion Council.
Swiss gold exports to China meantime doubled last month from January's figure to reach almost 58 tonnes, rising 63.1% from February last year.
"Demand for gold is still there" despite domestic Yuan gold prices rising 6.2% so far this month, the
South China Morning Post
quotes analyst Wang Qi at brokerage Guosheng Securities, pointing to how "geopolitical risks and panic sentiment" amid the sudden Western banking scare "both
put a floor under such demand
."
Previous spikes in global gold prices saw domestic Chinese prices fall sharply in comparison, driving what is typically a premium for bullion landed in Shanghai to a discount against London quotes. This happened most spectacularly during the Covid lockdowns and shock of 2020, when the
Shanghai gold discount reached a record
$120 per ounce on
data compiled and published
by the mining industry's World Gold Council.
Next-door in India, this latest price spike means sales of existing consumer holdings have
jumped by 25% year-on-year
, press reports today quote dealers and refiners, helping drive domestic prices further below global quotes as supply outweighs demand.
"There has been a sharp increase in old gold sales following the spurt in prices," says refining executive and former vice-president of India's Association of Gold Refineries and Mints James Jose.
"In South India, some are exchanging old gold for new, while some are taking liquid cash against gold."
For central-bank demand, official data say that China's People's Bank added 62 tonnes in 2022 while the Reserve Bank of India bought 33 tonnes. But while the PBoC has continued to buy gold so far this year – adding a further 40 tonnes across January and February to
hold 2,050 tonnes in total
– the RBI has held off, keeping its bullion reserves at 787 tonnes as the size and value of its wider
foreign exchange holdings declines
.