Bad Guys Inc.
Friday, 11/03/2017 09:02
America's self-image as heroes needs revising...
FATS DOMINO died last week. RIP, writes Bill Bonner in his Diary of a Rogue Economist.
Everything changes. A generation gives way. A new one takes over. The moon doesn't stand still for long. Fresh milk in the bucket goes sour. And the bright young man becomes a grumpy old coot. He finds his thrill. And then he loses it.
One shocking change came to light last week. We introduce it with a question: When did Americans become the "bad guys"?
When President Wilson went to war with Germany for no apparent reason other than his personal glory?
When President Truman committed the worst wartime atrocity in history: bombing Hiroshima and Nagasaki, intentionally killing 130,000 civilians in less than three days?
When the US Army massacred 160 Arapaho and CheYenne Indians (mostly women and children) at Sand Creek in 1864...or when Lieutenant Calley led a slaughter of 500 at Mỹ Lai in 1968?
No point in asking the question now; we're just doing future historians a favor. In their simple-minded telling of our time, the question is bound to come up.
All we know for sure is that the winners are always the good guys and the losers are always bad. But that's the problem.
As the world turns, winners become losers. When the US loses its next serious war – probably with China – when America's lard-loaded military is humiliated by a leaner, more technologically advanced enemy – historians will look back to figure out when the country went bad.
It was probably before 1962.
That was when the feds were concocting absurd and murderous plans to kill innocent Cuban refugees in the US so they could blame it on Fidel Castro. The Miami New Times reports:
"Donald Trump's bold promises earlier this week to finally blow the lid off the JFK assassination mystery by declassifying reams of secret documents turned out to be a gigantic tease. The National Archives ended up making public only a fraction of the JFK documents last night.

Still, the 2,800 papers included in the new document dump confirm some salacious details of America's decades-long quest to kill or depose Fidel Castro – including a fairly shocking plan by the CIA to sow terror in Miami. [...]"
The paper was sent by Gen. Edward Landsdale, a top Cold War officer who worked with the CIA to plot out Operation Mongoose; he sent the report, which included nine other "pretexts," on April 12, 1962, to Gen. Maxwell Taylor, who would soon become chairman of the Joint Chiefs of Staff. Here's how the report described the plan: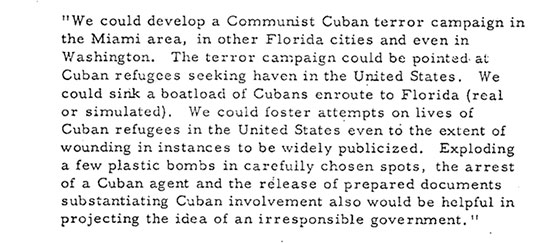 We don't know how seriously anyone took this memo. But if this is in the documents that were released, we have to wonder what is in those that weren't released.
Donald Trump, bless his heart, promised to open the files from the Kennedy era to put to rest the many conspiracy theories around the Kennedy assassination.
That was until the Deep State gave him a serious talking-to. What was said, we can only imagine:
"Are you crazy? Let people see what we actually do? We've got a pretty sweet gig here. Let's not blow it...better to let the voters think we are protecting the country."
Instead of putting conspiracy theories in an airtight tomb, he has given them a burst of oxygen.
After all, why withhold records from more than half a century ago? What have they got to hide?
There is no plausible "national security" reason to keep them under wraps. Is there anything in them they don't want foreigners to know?
Much more likely, there's something they don't want Americans to know.
We have a theory of our own: The feds are conspiring to keep people in the dark. They don't want us to know how murderous, incompetent, and corrupt they are.
We might start asking questions ourselves...about how and when the bad guys took over...and why those bad guys are still running the place.