A Bearish Sign on the Charts!
Tuesday, 8/16/2022 09:01
Exclamation marks? Useless 'analysis'...?
DO YOU SEE the '!' I used in the title? asks Gary Tanashian in his Notes from the Rabbit Hole.
I must be a technical analyst trying to convince you of something.
Sensationalism is about all that some TAs have, after all. They baffle you with bullshit because they sure don't help you with any kind of reasonable analysis based only on charts.
I am talking about the TAs – prominent in the precious metals, but plying their trade all over the markets – who use their charts in order to pretend (to themselves maybe, as well as to you) to be able to render usable analysis with no other analysis needed.
Got a chart? Got comprehensive analysis! Err, no propeller head.
The precious metals sector has one guy who combines terrible ghost stories and doom and destruction for stocks with imagined technical analysis on gold, silver, the miners and the Dollar. Throw him out the window due to a) his perma views on the end of the world and b) his very spotty (at best) TA #clownshow
The sector also boasts another #clown using only TA, from which he renders conclusions based on the shapes he sees. That's it! No need for any fundamental underpinning, sentiment analysis or anything else. He'll give his conclusions based on shapes and patterns and when it's time to change his tune he'll whipsaw to a new view because...well...the pattern broke down! Ha ha ha.
Anyway, the longer I do this the sicker I get looking at my supposed competition. It's embarrassing, actually. So the clowns above ply their trades to gullible readers, but what about the larger media?
Well, my broker, Fidelity, has signed on this outfit called Benzinga to pollute my otherwise helpful interface with crappy news and analysis. Much like Zachs, it's just automated crap spewing conclusions out there onto the interwebpipes with the confidence that people really are stupid, or really don't care.
One stock I have on watch is called Nutrien (NTR). I took a look at the daily chart and got excited. I went to Fidelity to research the stock and up popped this nugget from Benzinga.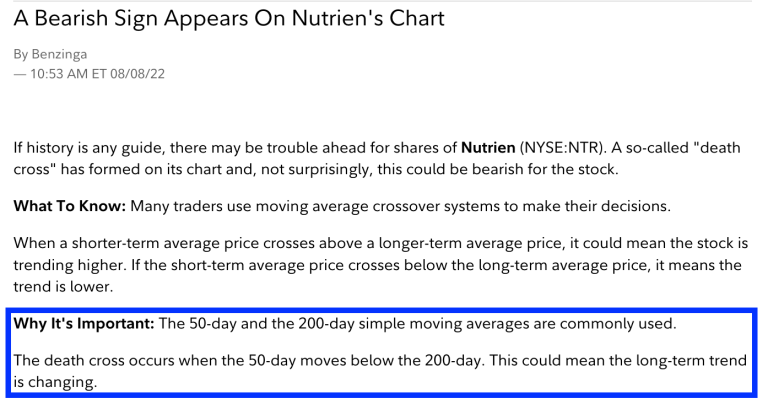 Ha ha ha.
As I have repeated til I'm blue in the face, a 'death' or 'golden' cross will most often be met with a move in the direction opposite to that which the man – or in this case automated garbage media – trying to influence you predicts.
Later, perhaps weeks or months down the road, the cross may actually play out to spec. But first it has to finish screwing over those who believe these TA clowns and act upon their hysteria.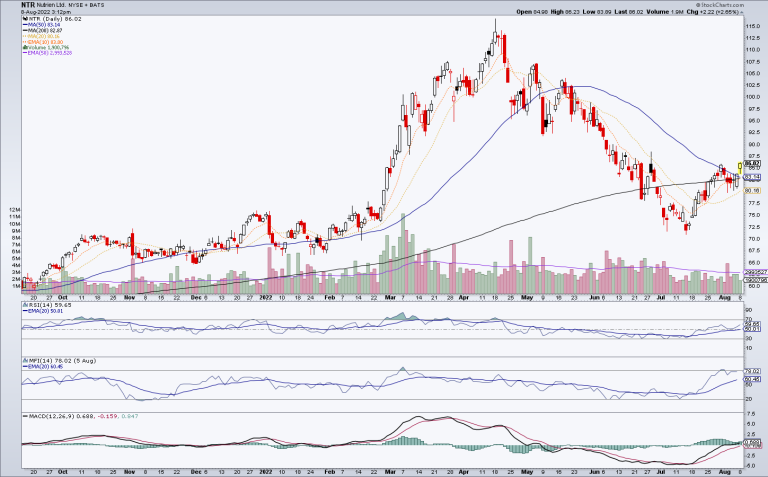 Indeed, NTR immediately looked set for making just such a "screw 'em" move. You just can't make this stuff up.