Bearish Americans Turn to Sports
Thursday, 2/23/2023 09:01
Sports betting that is, not exercise...
THIS YEAR's Super Bowl had a few notable "firsts", writes Frank Holmes at US Global Investors, including the first featuring two brothers on opposing teams.
But it will undoubtedly be remembered as a major turning point in sports betting in the US
Over 100 million Super Bowl LVII legal betting transactions were recorded that weekend, according to geolocation tracking firm GeoComply. This represents a new all-time record and a robust 25% increase from last year's Super Bowl.
The data point comes after the American Gaming Association (AGA) forecast last week that more than 50 million American adults would bet legally on the Eagles-Chiefs game, the most ever and a 61% increase from last year. Betters were believed to have collectively wagered as much as $16 billion.
So why is this happening?
An obvious contributor is the growing availability of online sportsbooks like DraftKings, FanDuel and others. Five years ago, the Supreme Court overturned a 1992 federal law that banned gambling on sports, and today, sports betting is legal in more than 30 states (plus Washington DC) with several more debating it in state congresses.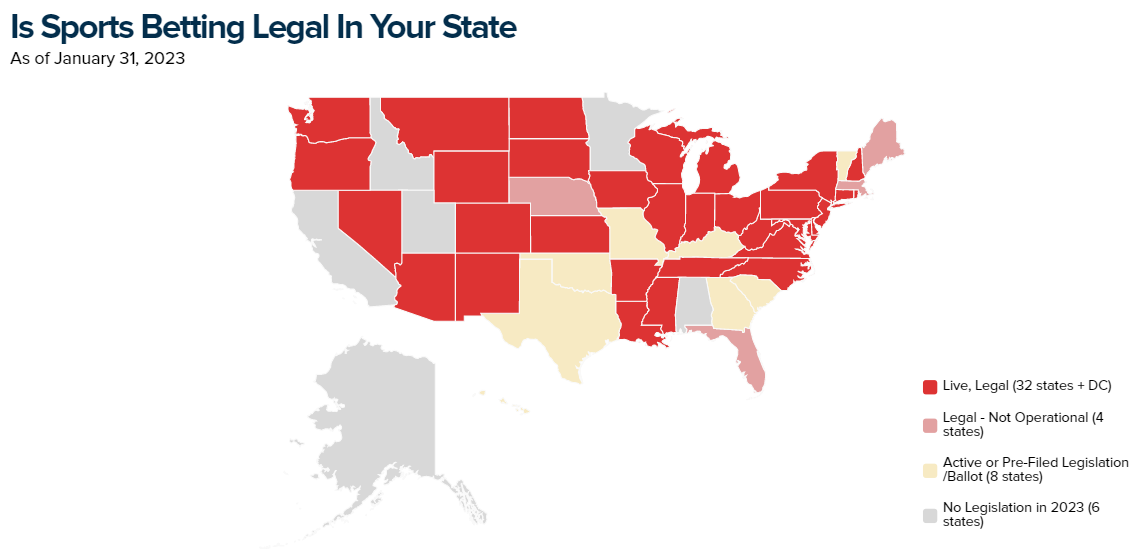 Availability to gambling aside, I think there's more going on when it comes to explaining the large volume of people participating this year.
Simply put, people are disappointed with how the stock market has performed over the last 12 months, and they feel jaded by stubbornly high inflation and rising interest rates. Take a look at the returns for companies that advertised during last year's Super Bowl: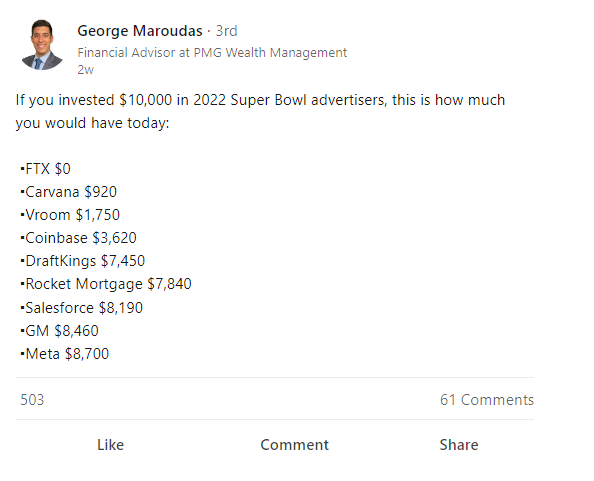 Even betting on the sportsbooks themselves has been mostly unprofitable. The Roundhill Sports Betting & iGaming ETF, launched in June 2020, rallied during the pandemic months when locked-down households were saving money on eating out and attending live events, but it's since receded as personal savings rates have returned to pre-pandemic lows.
According to a recent Gallup poll, a vast majority of Americans now believe that consumer prices will continue to tick up this year, and nearly 50% predict that stocks will fall in the first half of 2023. That's a record-high percentage of people expressing pessimism toward the stock market since the firm began asking the question more than 20 years ago.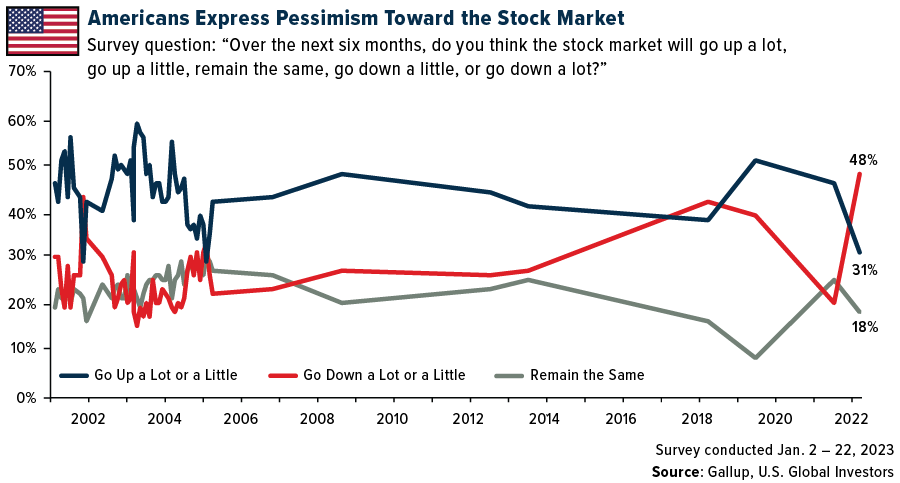 Taken together, some people may believe that the only way to grow their money right now is to score big on a sports wager. An estimated 58% of Americans own stocks, which is still a much larger share than those who bet on the Super Bowl, but market volatility and economic uncertainty have understandably dented people's perception of traditional investing.
The same goes for the crypto industry, which saw a number of scandals and upheavals in 2022 and ended the year down 70%, as measured by the Bloomberg Galaxy Crypto Index. Last year's Super Bowl was nicknamed the "Crypto Bowl" due to the innumerable ads for Coinbase, Crypto.com, eToro, FTX and other crypto-related companies.
In a remarkable about-face, no crypto firm ran ads during this weekend's Super Bowl. What a difference 12 months can make.
Instead, viewers saw commercials for food and beverage companies, automakers, movie studios and streaming services.
The cost of a 30-second commercial during this year's Super Bowl, by the way, was anywhere between $6.5 million and $7 million, a new all-time high. Since the first Super Bowl in 1967, ad prices have increased more than 16,000%.
Recession risks are indeed rising, despite the strong jobs market in the US As investment banking company Piper Sandler pointed out in a recent research note, every recession has been preceded by three things: 1) rising interest rates, 2) an inflation spike, and 3) tighter lending standards.
All of the attention has been on rates and inflation, but tighter bank lending can be just as meaningful. Take a look below. The percentage of banks in the US reporting tighter lending standards has continued to increase since the third quarter of 2021, and as of the latest reading, some 45% of banks are saying that they're slowing the rate of business loans.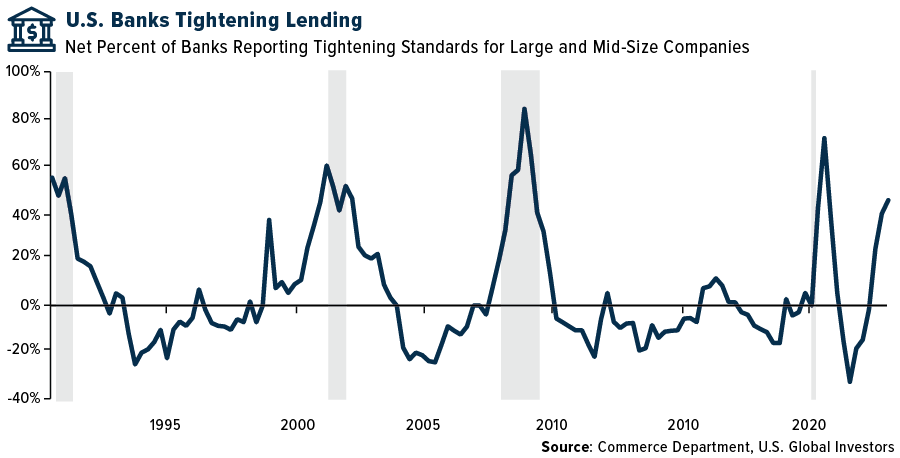 A spike in tighter lending standards has historically coincided with economic downturns, as you can see; Piper Sandler says it stands by its forecast for a recession to hit in the second half of 2023.
I think it's important, then, to proceed with caution. To state the obvious, gambling and sports betting are not the same as investing, and they shouldn't be seen as replacements. You can lose your principal in a matter of seconds betting on a game, with no chance of ever seeing it again.
On the other hand, the value of your stocks can decline, but at least there's hope of breaking even if you simply refrain from selling at a loss.